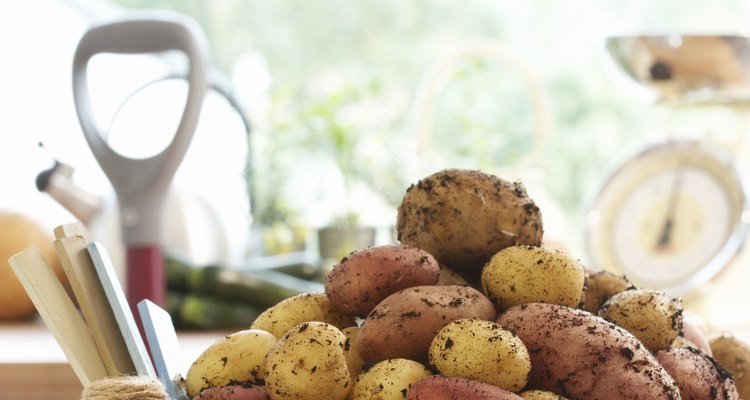 Martin Poole/Digital Vision/Getty Images
Substitute sweet potatoes for white potatoes when making hash browns, and you'll reap some hefty nutritional benefits. Sweet potatoes provide 400 percent of your daily recommended allowance of vitamin A, and they're also lower in calories and carbs than white potatoes. They're dense and fibrous, though, so it's best to parboil them before you bake them to soften them. Onions can be caramelized with the hash browns or separately, but watch them closely in the oven because baked onions burn easily.
Step 1
Scrub the sweet potatoes and cut them into 2-inch chunks. Place them in a saucepan filled with salted cold water and heat them to boiling. Turn the heat to medium-low and continue to cook the sweet potatoes until they're tender -- about 20 minutes.
Step 2
Preheat the oven to 400 degrees F. Line a baking sheet with parchment paper or a silicone mat.
Step 3
Peel and slice the onions into 1/8-inch slivers and set them aside. Drain the potatoes thoroughly and allow them to cool enough that you can handle them.
Step 4
Peel the sweet potatoes and cut them into 1/2-inch cubes or shred them.
Step 5
Return the prepared potatoes to the saucepan along with the onions. Add a little oil and seasonings to the pan. You can season the sweet potatoes and onions with paprika and chili powder for a savory dish or brown sugar, cinnamon and ginger for a sweet dish.
Step 6
Put the lid on the pot and shake vigorously. This technique coats the sweet potatoes and onions with the oil and seasonings.
Step 7
Spread the sweet potatoes and onions on the prepared baking sheet and bake for 20 to 30 minutes, or until they're tender, golden-brown and caramelized. Stir occasionally to keep them from burning.
References
Tips
You can peel and slice the sweet potatoes before you cook them, but they're easier to cut after they've been parboiled.
If you prefer, you can caramelize the onions separately by cooking them on the stove top. Cook them on medium-low in a bit of oil for 20 to 30 minutes, or until they become browned and very tender. Add a little water if necessary so they don't burn.
Writer Bio
Julie Christensen is a food writer, caterer, and mom-chef. She's the creator of MarmaladeMom.org, dedicated to family fun and delicious food, and released a book titled "More Than Pot Roast: Fast, Fresh Slow Cooker Recipes."
Photo Credits
Martin Poole/Digital Vision/Getty Images