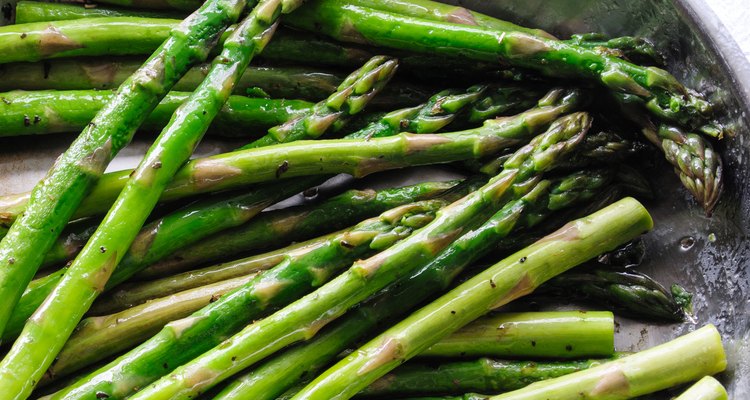 Ana_Penelope/iStock/Getty Images
Panfried carrots and asparagus is a common side dish or appetizer in the spring and summer months. The vegetables are often served over rice or cooked pasta, but you can serve them a la carte as well. The type of cooking oil and seasonings you select will determine the flavor of the panfried carrots and asparagus. Approximately 20 minutes is required to panfry carrots and asparagus. This recipe yields four small servings or two large servings.
Pour the cooking oil into a skillet and place it over high heat. Allow the oil to preheat for two minutes.
Add the seasonings to the oil and stir them quickly for 10 seconds. Add the chopped carrots to the skillet and continue stirring for five minutes.
Add the chopped asparagus to the skillet. Stir the contents of the skillet constantly for 10 minutes or until the vegetables are soft, yet still crunchy.
Remove the panfried carrots and asparagus from the skillet and allow them to cool for five minutes. Serve the carrots and asparagus while hot.
Refrigerate leftover carrots and asparagus immediately and consume them within 48 hours.
References
"More Vegetables, Please!"; Elson M. Haas and Patty James; 2009
"Vegetables Every Day"; Jack Bishop; 2001
Writer Bio
Serena Styles is a Colorado-based writer who specializes in health, fitness and food. Speaking three languages and working on a fourth, Styles is pursuing a Bachelor's in Linguistics and preparing to travel the world. When Styles isn't writing, she can be found hiking, cooking or working as a certified nutritionist.
Photo Credits
Ana_Penelope/iStock/Getty Images