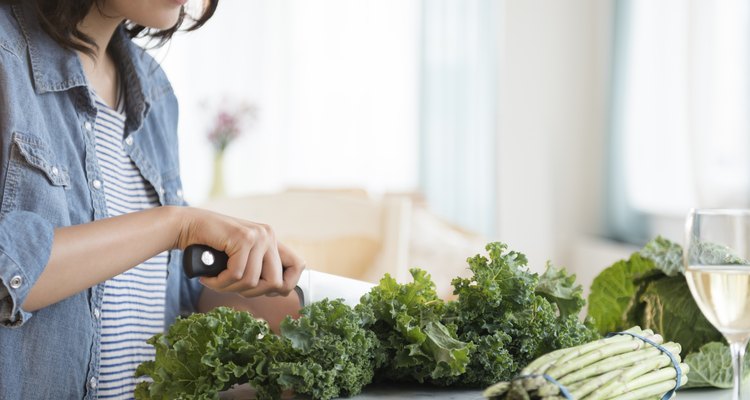 JGI/Jamie Grill/Blend Images/Getty Images
Dark, leafy greens such as kale are some of the most nutrient-dense foods. According to the book "Superfoods for Dummies," kale is rich in vitamins A, C and K, and is a good source of potassium, calcium, magnesium and folate. Kale is also low in calories. Kale grows well in the winter, making it an affordable, fresh choice during the cold months when quality produce is scarce. Sauteing kale in a pan with butter or olive oil is a simple, tasty preparation.
Heat the olive oil or butter over medium heat in a large skillet.
Add the garlic to the skillet and saute for 1 minute, or until soft.
Wash the kale and remove any tough stems. Cut the leaves or tear them into bite-size pieces.
Add the kale to the skillet and saute for about 1 minute, tossing to combine the ingredients.
Add the water, salt and vinegar and stir. Reduce the heat to medium-low and cook for 10 to 15 minutes, or until tender but not mushy.
References
"No Wheat No Dairy No Problem"; Lauren Hoover; 2009
"Superfoods For Dummies"; Brent Agin; 2009
Writer Bio
Sarah Bourque has been a freelance writer since 2006 and is based in the Pacific Northwest. She writes and edits for the local publisher, Pacific Crest Imprint and has written for several online content sites. Her work recently appeared in "The Goldendale Tourism and Economic Development Magazine" and "Sail the Gorge!" magazine. She attended Portland Community College where she studied psychology.
Photo Credits
JGI/Jamie Grill/Blend Images/Getty Images