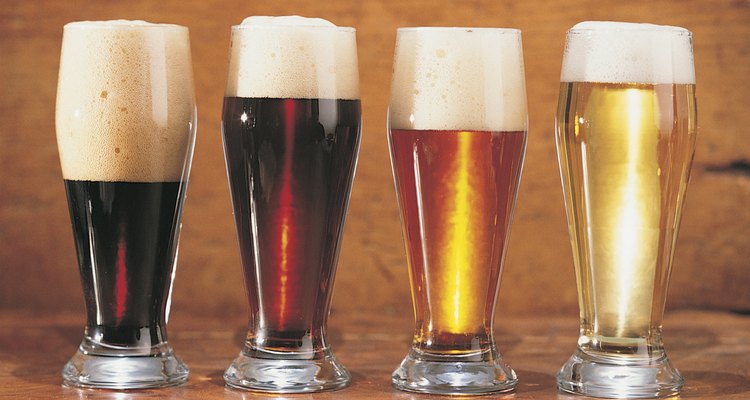 Comstock/Stockbyte/Getty Images
Kielbasa, frequently called Polish sausage, is made from coarsely ground pork seasoned with garlic and stuffed in a thick casing, after which the links are smoked. The final product has a dense texture and a satisfying "snap" from the casing when you bite into it. Cooked with sauerkraut and a bottle of good beer and served on a bun, the sausage is classic ballpark or backyard picnic food. It's also a taste of home for diners with Eastern European roots.
Step 1
Place the sauerkraut in a colander and let the excess liquid drain. Rinse the sauerkraut with cold water before cooking it to reduce some of the tartness and saltiness, if desired.
Step 2
Set a large saute pan over medium-high heat. Add a few tablespoons of oil, and when the oil is hot, add the kielbasa. Let the kielbasa cook until it's slightly browned, then lower the heat.
Step 3
Add the sauerkraut to the pan and pour in a bottle of dark, hearty beer, such as a porter or stout. Cover the pan and cook the mixture until the sauerkraut and kielbasa are heated through, about 20 minutes.
References
Resources
Tips
Most kielbasa is already cooked when you buy it, so it only needs heating.
Speed up the cooking time by slicing the kielbasa before you brown it.
Add flavor by including diced onion and garlic, caraway seeds or fresh herbs.
Use brown sugar to cut some of the kraut's tart flavor if desired.
Peel and cube a couple of potatoes and add them to the kielbasa and kraut to add a starchy element to the meal.
You can cook the kielbasa, beer and sauerkraut in a slow cooker instead of on top of the stove. Set the slow cooker to low and cook for about 4 hours, or until the ingredients are heated through.
Place the kielbasa, beer and sauerkraut in a heavy, cast-iron pan with a tight-fitting lid and cook in a 325 degree Fahrenheit oven for about an hour.
Warnings
Use tongs to turn the sausages rather than a fork. If you pierce the skin, more of the juices will escape, making the sausage drier.
Writer Bio
Meg Jernigan has been writing for more than 30 years. She specializes in travel, cooking and interior decorating. Her offline credits include copy editing full-length books and creating marketing copy for nonprofit organizations. Jernigan attended George Washington University, majoring in speech and drama.
Photo Credits
Comstock/Stockbyte/Getty Images