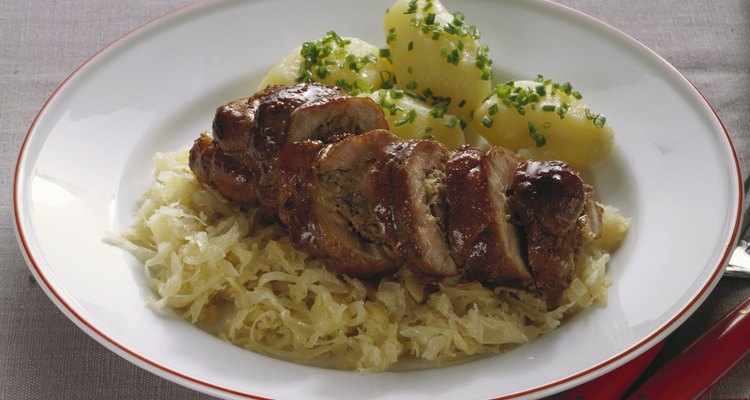 Eising/Photodisc/Getty Images
Through much of Central and Eastern Europe, pork and sauerkraut forge a most traditional partnership. They're a natural combination, with the tart acidity of the sauerkraut providing a foil to the richness of the pork. It's an especially appealing combination when the two are slow-cooked together, mellowing the sauerkraut and giving the pork a richly luscious texture. A countertop electric roaster is ideal for preparing a large batch without heating your kitchen.
Step 1
Place the cooking insert in your electric roaster, if necessary. Arrange the sauerkraut, onions, apples and any other flavoring ingredients into a layer along the bottom of the roaster.
Step 2
Add the white wine, juice, beer or broth, if you're using it, and then place the pork shoulder on top of the sauerkraut.
Step 3
Cover the roaster with its lid, and set the temperature to 300 F.
Step 4
Slow-cook the sauerkraut and pork shoulder for three to five hours, depending on the size of the roast. It's fully cooked when it reaches an internal temperature of 145 F when tested with a meat thermometer or instant-read thermometer, but for the traditional fork-tender consistency it should reach an internal temperature of 180 F or higher.
Step 5
Remove the roast to a serving platter and let it rest for at least 10 to 15 minutes before serving. Surround it on the platter with sauerkraut, and serve it with boiled or mashed potatoes.
References
The Old World Kitchen: The Rich Tradition of European Peasant Cooking; Elizabeth Luard
Writer Bio
Fred Decker is a trained chef and certified food-safety trainer. Decker wrote for the Saint John, New Brunswick Telegraph-Journal, and has been published in Canada's Hospitality and Foodservice magazine. He's held positions selling computers, insurance and mutual funds, and was educated at Memorial University of Newfoundland and the Northern Alberta Institute of Technology.
Photo Credits
Eising/Photodisc/Getty Images