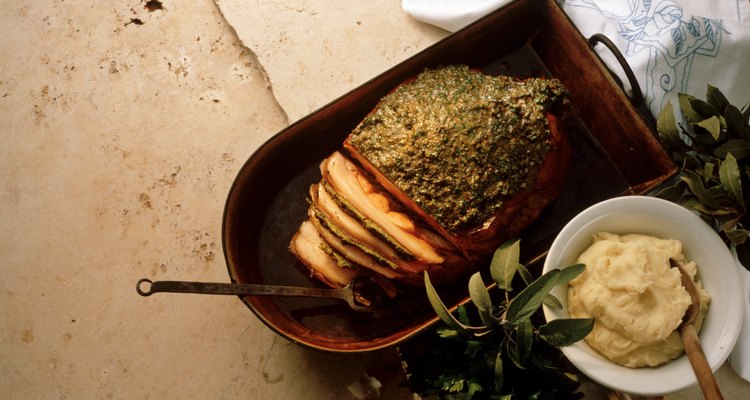 Eising/Photodisc/Getty Images
Taking Pulled Pork from the Smoker and Into the Kitchen
Pork blade roasts are synonymous with Boston butt, the cut best known for barbecue. Whether you make pork blade in the smoker or in the oven, one thing stays the same: You need to cook that delectable hunk of oink low and slow for it to reach pull-apart tenderness. You can still use the same spice rubs you would use when barbecuing, but consider taking advantage of the flavor neutrality of roasting and try seasoning with a fresh-herb paste.
While few ingredients impart the robust, complex flavors that smoke does, its intensity can suffocate the finer nuances of the aromas imparted by fresh herbs. You get the most tenderness and flavor penetration out of a pork roast by seasoning it and then letting it sit in the refrigerator overnight before cooking it.
Total Time: 12 hours, 15 minutes | Prep Time: 15 minutes | Serves: 12
1 5- to 7-pound pork blade roast
Olive oil, as needed to coat

Kosher salt and freshly ground black pepper
Herb paste or dry rub (optional)
Season the pork roast to taste with salt and pepper, a dry rub or a seasoned herb paste. Wrap the roast in plastic wrap, and let it sit in the refrigerator for 12 to 36 hours. Take the roast out of the refrigerator about 1 hour before you start cooking.

Heat the oven to 500F or its highest setting. Tie the roast crosswise at 1-inch intervals using kitchen twine.

Set the roast on a wire rack set inside a roasting pan. Alternatively, slice a couple of carrots or potatoes; set them in an even layer in the center of the roasting pan and set the pork shoulder on top of them.

Cook the roast until golden brown, about 20 minutes. Lower the oven temperature to 250F.

Roast the pork shoulder for about 4 hours, or until the center reaches 190F to 200F.
Take the roast out of the oven and cut away the kitchen twine. Let the pork shoulder rest on a carving board for 10 to 15 minutes before slicing.

References
Tips
Cook the pork blade cut until it reaches an internal temperature of at least 200 F, if you want to make pulled pork.
Writer Bio
A.J. Andrews' work has appeared in Food and Wine, Fricote and "BBC Good Food." He lives in Europe where he bakes with wild yeast, milks goats for cheese and prepares for the Court of Master Sommeliers level II exam. Andrews received formal training at Le Cordon Bleu.
Photo Credits
Eising/Photodisc/Getty Images