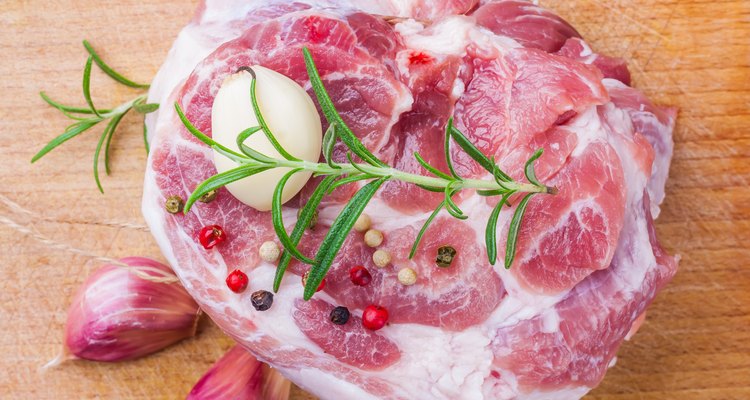 Aneta_Gu/iStock/Getty Images
Roasted pork with rosemary is a festive dish that can be made the day before an event, then reheated in the oven before serving. Because the pork loin is one of the leanest parts of the pig, it will sometimes dry out while cooking. By covering your roasting pan with a lid -- or with foil -- while reheating, the roast remains juicy and tender. The fresh rosemary, basil and garlic rub gives the roast a boost of herbaceous flavor and an appealing aroma. Pork loin pairs well with cooked fruit, salads and rice dishes.
Preheat your oven to 450 degrees Fahrenheit.
Remove any extra fat from the pork loin with a carving knife, then set the pork loin on a rack within your roasting pan.
Combine the salt, pepper, fresh herbs and garlic in a small bowl. Add the olive oil and stir.
Spread the herb and spice mixture over the entire pork loin.
Roast the pork in the oven for one hour, then test for doneness using an internal heat thermometer. When the temperature reaches 155 degrees, remove the roast from the oven.
Rest the meat for at least 20 minutes, covered, before carving. It will continue to cook while resting.
When the roast cools to room temperature, refrigerate it until you are ready to reheat it.
Preheat your oven to 350 degrees Fahrenheit. Put the roast back in the oven using the same roasting pan covered with a lid or with foil, and heat for 20 to 30 minutes, until the roast is completely reheated.
Baste the roast with the pan juices.
Place the roast on a serving platter and garnish with rosemary sprigs.
References
Writer Bio
Assia M. Mortensen has over 12 years of experience as an editor and journalist, and has published hundreds of articles in magazines, newspapers and online at "The Santa Barbara Independent," "Frontiers Magazine," "805 Living Magazine," Huffingtonpost.com, LIVESTRONG.COM and many other outlets. Mortensen graduated from the University of California in Santa Cruz with a Bachelor of Arts in literature and creative writing.
Photo Credits
Aneta_Gu/iStock/Getty Images