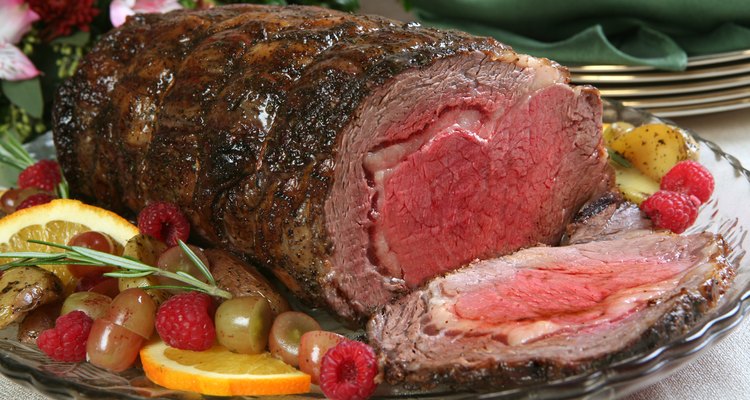 Jack Puccio/iStock/Getty Images
Prime rib, a beef dish served in some of the best restaurants worldwide, is thought of as an expensive meal. You can easily prepare a restaurant-quality prime rib at home with simple spices. Finding quality prime rib roast is as easy as checking out what's at your grocery store, or finding a local butcher that will cut this meat specifically for you. Add in homemade mashed potatoes and steamed broccoli for a classic restaurant-quality meal served in the comfort of home.
Take your prime rib roast out of the refrigerator and let it set out until it reaches room temperature, approximately 30 minutes. Heat an oven to 400 degrees, and then wash and dry the prime rib roast.
Mix together the dry ingredients, including the salt, pepper, garlic powder, cumin, and ancho chili powder. Rub the mixture all over the prime rib roast liberally. You may not use all of the mixture; however, make certain the entire roast is covered.
Place the roast on a roasting rack inside a roasting pan, and roast for two hours at 400 degrees or until a meat thermometer registers 120 degrees. Remove the prime rib from the oven.
Let the prime rib rest for 15 to 20 minutes before you cut slices from it, so that the meat remains moist and juicy. Serve with au jus sauce, prepared from the roast pan drippings.
References
Writer Bio
Kristi Croddy, BSN, is a registered nurse who started writing in 1994. She volunteers as a lactation consultant and pregnancy coach. Her writing career includes articles on pregnancy health, childbirth and breastfeeding. She is currently working on her first book, "Pain Free Delivery: A Guide to Natural Childbirth."
Photo Credits
Jack Puccio/iStock/Getty Images