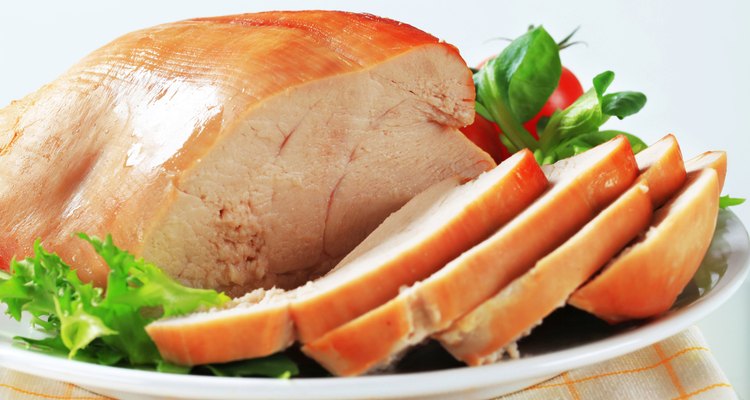 ajafoto/iStock/Getty Images
Boneless turkey breasts are somewhat smaller than regular turkeys, they are simpler to cook as well, making them a good choice for a busy cook with a smaller group. They're almost fool-proof, in fact. Most have been injected with a solution containing sugar or salt, so they require minimal seasoning and turn out juicy and delicious in less than 2 hours.
Preheat the oven to 325 degrees F. Remove the wrappings and gravy packet from the turkey breast. Discard the wrappings and refrigerate the gravy packet for later use. Pat the turkey breast dry with a paper towel.
Place the turkey breast on a roasting rack in a roaster, or in a baking dish, skin-side up. Melt 1/4 cup of butter in a microwaveable bowl. Add honey, 1 teaspoon salt, 1 teaspoon pepper and 1/2 teaspoon dried tarragon or rosemary. Spread this mixture evenly over the turkey breast with a spoon or basting brush.
Roast the turkey breast for 1 3/4 hours to 2 hours, depending on your oven and the size of a roast. A meat thermometer inserted into the middle of the breast should read 170 degrees F. when done.
Remove the turkey breast from the oven and transfer it to a serving tray. Cover the meat with aluminum foil and let it rest for 10 minutes, which makes it easier to carve and allows the juices to settle in the meat.
References
Resources
Tips
Cook the turkey frozen if you prefer, but add an additional 45 minutes to 1 1/2 hours to the time, depending on your oven and the size of the turkey. Check for doneness with a meat thermometer before serving.
Writer Bio
Julie Christensen is a food writer, caterer, and mom-chef. She's the creator of MarmaladeMom.org, dedicated to family fun and delicious food, and released a book titled "More Than Pot Roast: Fast, Fresh Slow Cooker Recipes."
Photo Credits
ajafoto/iStock/Getty Images