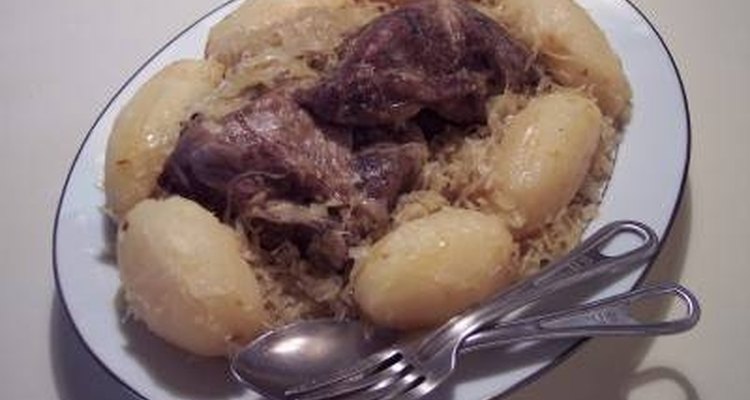 www.cyberdnb.com
The combination of pork roast and sauerkraut makes for a good dinner any night of the week. Sauerkraut is shredded cabbage that has been fermented by various bacteria. It has a long shelf life and a distinctive sour flavor. Pork roast is one of the most popular main course meats in the world today. America is the second-largest country in pork consumption, the first being China.
Preheat oven to 350 degrees.
Heat the large frying pan on medium heat till hot. Add butter to the frying pan. Place the roast in the frying pan. Brown the roast for 5 minutes in melted butter.
Remove the roast from the frying pan and place into a deep baking dish. Add sauerkraut, brown sugar, applesauce and maple syrup.
Bake for 3½ hours. Check the temperature of the roast with a meat thermometer. If the roast is not to 165 degrees, then check every 10 minutes till the temperature reaches the temperature. When the roast is 165 degrees, remove the roast from the oven.
Allow the roast to cool for 10 minutes. Slice as desired and serve.
Writer Bio
Launie Sorrels is a veteran who has worked as a chef and has more than two decades of martial arts training. His writing has developed from his experience as a quality assurance manager for Microsoft and IBM. Sorrels has a degree in computer science and is currently working on his journalism degree.
Photo Credits