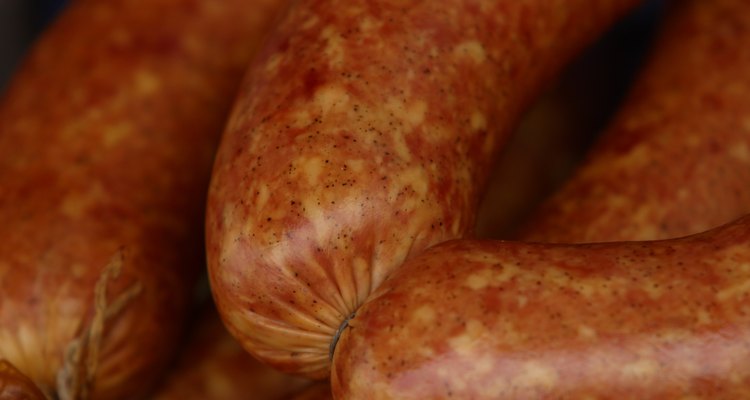 Photos.com/Photos.com/Getty Images
Italian sausage is a mildly spicy or slightly sweet meat that is flavored with a variety of spices including fennel, basil, peppers and anise. Italian sausage can be grilled on a BBQ, braised in liquid in the oven and sautéed in a pan, all with delicious results. A superb cooking technique that really complements the meat and brings out its complex flavors is to cook your sausage in beer, liquor or wine.
Beer
A classic way to prepare Italian sausage is to soak it in beer and then grill it on a barbeque. Using a Pilsner or lager will infuse the sausage with a slight malty flavor and yield a rich, juicy meat. You can also create a hearty stew using ale. Add sliced sausage with peppers, onions and garlic to liquid using broth and beer. Crushed red pepper flakes will add heat to your dish. Cook until tender and add chopped spinach or kale. Another delectable sausage dish can be made in the oven. Add chopped fennel; include spices, such as cumin and paprika; and pour in the beer. Cook until the sausage and fennel are slightly browned.
Red Wine
Italian sausage and red wine is a mouth-watering pairing. Saute onions until caramelized. Add slices of yellow and red peppers, garlic and cut sausages. Add a full-bodied red wine like cabernet or Marsala and cook until the wine has reduced and sausage is tender. Mushrooms and sausages cooked in red wine is another delicious option. Serve this over pasta for an easy yet hearty meal. You can also braise whole sausages and sliced onions in wine, cooked in the oven. Sausages cooked in red wine add a depth of flavor when used as a topping for pizza.
White Wine
Bollito misto is a delicate Italian sausage dish that braises sausage in a variety of spices and white wine until juicy and tender. Sausage also pairs well with white beans or lentils. Add sliced sausage to cooked beans of your choice. Mix in white wine, spices and freshly chopped kale and cook until heated through. Finish your dish with a sprinkling of Parmesan cheese. Sausage stuffing is a delectable side dish with holiday turkeys or any time of year. Mix sausage with bread cubes, add spices such as thyme and sage and moisten with broth and white wine. Add butter to the mixture and bake until golden brown.
Vodka
Italian sausage is delicious paired with a vodka sauce. To create the sauce, mix onions; chopped tomatoes; garlic; spices, such as red pepper flakes and oregano; and vodka. Cook until the mixture has thickened. Puree the sauce in a blender until smooth. Add the sauce back to the pot and mix in heavy cream and salt and pepper to taste. Add sausages and cook until heated through. Serve this sauce over penne or rigatoni pasta. Sausages can also be cooked separately with mushrooms and onions for richer flavor and then added to the sauce.
References
Writer Bio
Candi Canncel is a writer covering food and drinks, travel and lifestyle. Her work has appeared on Food and Wine Travel, Craft Gossip, Belltown Local and other publications. She also teaches cooking classes and hosts food/wine seminars.
Photo Credits
Photos.com/Photos.com/Getty Images