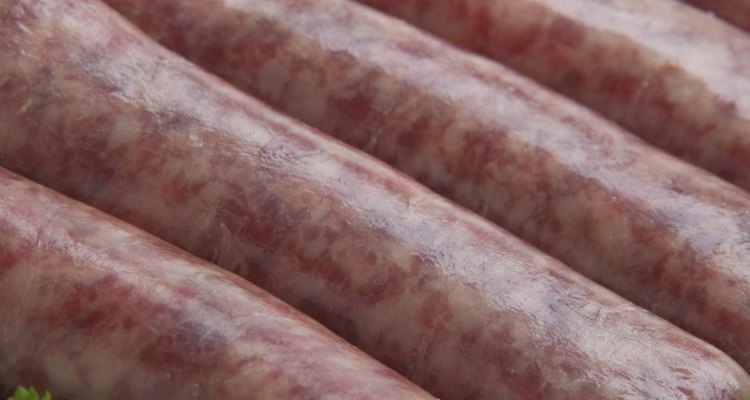 Jupiterimages/liquidlibrary/Getty Images
Pickled sausages are standard tailgate fare or a tasty anytime snack. You can prepare them in three steps, and they'll keep in the fridge for at least two weeks, absorbing more flavor the longer they bathe in brine. Add them to casseroles, soups or salads. Or arrange them in mason jars tied with bows and give them to family and friends on holidays and birthdays. You can also use the same brine recipe to pickle just about anything: peppers, eggs and in-season root vegetables.
Step 1
In a saucepan over medium heat, combine the dry white wine, white vinegar, sugar, salt, pickling spice and the crushed red pepper. Bring the mixture to a boil. Turn off the fire and allow the brine to simmer while completing the next step.
Step 2
Rough chop the garlic and slice the onions into disks. Arrange the onions, garlic and sausage in a large mason jar in alternating layers, intermittently tossing in the bay leaves and herbs.
Step 3
Pour the brine into the jar. Secure the lid. Allow the brine to cool before placing the jar into the refrigerator. Allow the sausages to pickle for a minimum of five to seven days.
References
Resources
Tips
Try vermouth, vodka or a dry pale ale instead of white wine, and experiment with different mixtures of spices and herbs.
Add some grill marks to sausages or kielbasa before pickling. This imparts a roasted flavor.
Pickle sausages with other fruits and vegetables simultaneously.
Warnings
Don't pack mason jar too tightly. Give pickles a little room to move around.
Keep pickled sausages refrigerated.
Writer Bio
Born in New York City, Tremaine Jackson has been in theater, dance and music since age 12, when he appeared in Liz Swados' "Swing" at the Brooklyn Academy of Music. He is also an award winning children's recording artist. He writes fiction and poetry in his spare time.
Photo Credits
Jupiterimages/liquidlibrary/Getty Images