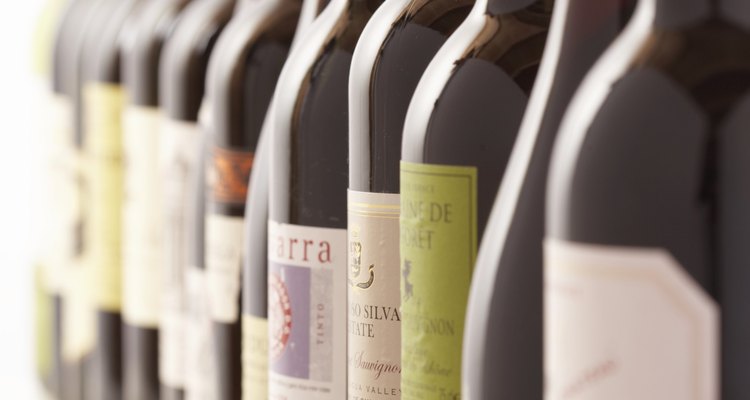 Martin Poole/Photodisc/Getty Images
Make any dish more flavorful and elegant with a simple wine-reduction sauce. Boiling wine with a bit of sugar results in a thick glaze, perfect for brushing or drizzling over your favorite entrees. Red wine reductions complement meat dishes, while white wine reductions are perfect for fish. To avoid making your sauce too sweet, select a dry wine, such as a cabernet sauvignon, pinot noir, sauvignon blanc or pinot grigio. Sweeten the sauce with plain white granulated sugar, or choose a sweetener with more complex flavors, such as honey or brown sugar.
Step 1
Pour wine into a small saucepan over medium heat.
Step 2
Add sugar to the wine at a ratio of about 3 tablespoons of sugar for every 1 cup of wine. Create complex flavors by substituting some or all of the sugar with another sweetener. Brown sugar, molasses, honey and maple syrup infuse the sauce with unexpected flavors. Or add a splash of orange juice to white wine.
Step 3
Add flavorful ingredients, such as Dijon mustard, soy sauce, lemon juice, shallots and finely chopped fresh herbs.
Step 4
Bring the ingredients to a boil, whisking until the sugar is completely dissolved. Allow the sauce to boil until it is syrupy and clings to the back of a metal spoon, about 15 to 20 minutes.
References
The Joy of Cooking; Irma S. Rombauer et al.
Writer Bio
Irena Eaves began writing professionally in 2005. She has been published on several websites including RedPlum, CollegeDegreeReport.com and AutoInsuranceTips.com. Eaves holds a Bachelor of Science in journalism from Boston University.
Photo Credits
Martin Poole/Photodisc/Getty Images