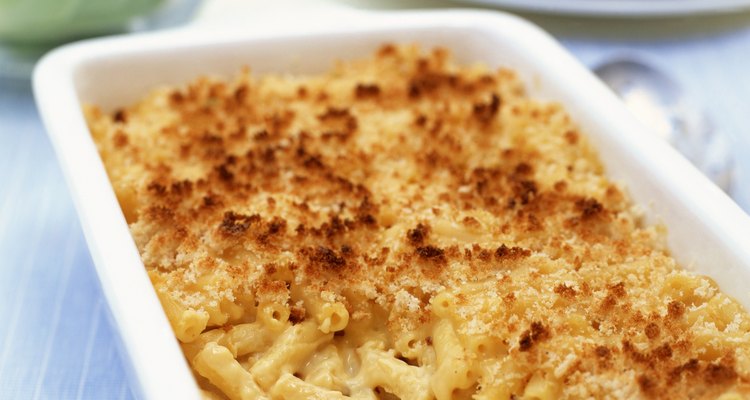 ITStock Free/Polka Dot/Getty Images
Nothing says Southern-style side dish like macaroni and cheese with sour cream. While adding sour cream is just one of many ways to make the dish, it's the only way if you want that tangy and creamy twist. Using sour cream is handy because it means you have something to thicken up the sauce, so you don't have to make roux – a flour and butter mixture typically used to thicken sauces. Sour cream is also versatile enough that it pairs well with any cheese you choose to use in the dish. Overall, making mac and cheese with sour cream is simple enough for even a novice cook to perfect.
Step 1
Preheat the oven to 350 degrees Fahrenheit. Bring a pan of lightly salted water to a boil over high heat. Add a few heavy handfuls of macaroni noodles to the pot and boil until al dente, or somewhat firm. Remove the pan from the heat and drain the noodles in a colander. Pour the noodles back into the pan.
Step 2
Stir a few large handfuls of finely grated cheddar cheese and a few thick pats of butter into the hot noodles. Stir a few heavy splashes of milk and several massive dollops of sour cream into the noodles. Mix well. Add additional ingredients, such as crumbled bacon, as desired.
Step 3
Lightly spray a casserole dish with cooking spray. Pour the macaroni mixture into the dish and smooth with the back of a spoon. Sprinkle the macaroni with a flavorful topping, such as shredded cheese or seasoned breadcrumbs, as desired.
Step 4
Bake the macaroni and cheese in the preheated oven until golden and bubbly. Remove dish from oven and let cool a few minutes before serving.
References
Paula Deen's Southern Cooking Bible; Paula Deen
To Serve with Love: 100 Simple, Scrumptious Meals from the Skinny to the Sinful; Carrie Wilson
A Year in Food and Beer: Recipes and Beer Pairings for Every Season; Emily Baime, Darin Michaels
Tips
There are many ways to customize basic Southern-style mac and cheese. Try a sprinkle of mustard seed and paprika to give the dish a spicy kick, or add smoked Gouda instead of cheddar for a woodsy taste. Stir artichoke hearts and sun-dried tomatoes into the noodles for an Italian twist on the Southern classic. Add diced ham and turkey lunch meat to turn the creamy side into a filling main dish.
Add a few beaten eggs to the pasta mixture before baking if you prefer a custard style mac and cheese with a very thick sauce as opposed to a cream style dish with a drippy sauce.
Warnings
Don't overcook the pasta or it will turn into mush when baked and ruin the overall texture of the dish. Cook the pasta until soft enough to bend, but stiff enough to taste chewy. This leaves the pasta firm enough to stand up to the baking process.
Writer Bio
A writer since 2000, Aya Pauli has covered a variety of topics including food, fashion, beauty, health, parenting, education, decor and crafts. Her award-winning recipes have been published in food magazines such as "Taste of Home," and she is also the author of a salad cookbook. Pauli's craft projects appear in major manufacturer websites, including Dow Styrofoam. She also holds a CDA in early childhood education and works as a preschool teacher in Wyoming.
Photo Credits
ITStock Free/Polka Dot/Getty Images