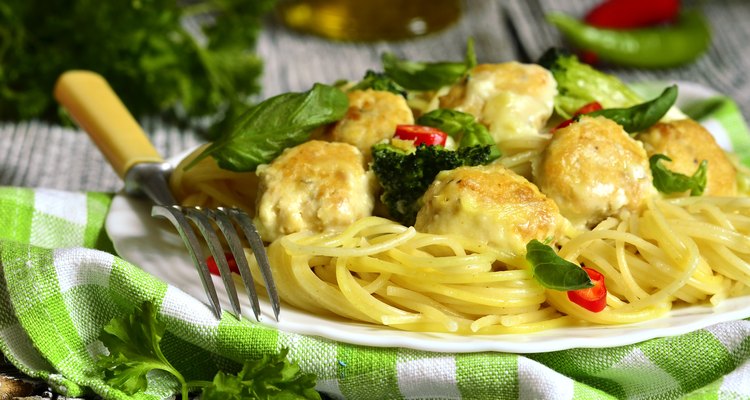 Lilechka75/iStock/Getty Images
You'd love some spaghetti and meatballs but you're not a fan of tomato sauce. Think outside the pasta pot and create a no-tomato or a tomato-sauce-less Italian feast. Make your meatballs with beef, sausage, chicken or turkey and let fresh herbs and vegetables stand in for the traditional sauce.
Easy Peasy
Add your meatballs to a simple aglio e olio -- garlic and oil -- spaghetti and top it off with shredded Parmesan cheese and a sprinkling of fresh chopped Italian parsley. For a classic southern Italy twist, soak some sun-dried tomatoes in hot water, chop them up and add them to the aglio e olio pasta along with some toasted pine nuts and your choice of meatballs.
Pick a Pesto
Although pesto is generally considered to be a basil concoction, it can be made from a variety of vegetables, including peas, parsley, artichokes or even collard greens.
Use a classic basil pesto sauce with small beef, veal or pork meatballs. Pesto is, by definition, garlicky, but try sauteing some chopped shallots and mushrooms to mix in with your pesto pasta. Mix a bit of pesto in your meatballs for an extra kick.
Make a cilantro pesto by putting an entire bunch of cilantro -- stems and all -- in the food processor with a few cloves of garlic and a bit of olive oil. You can include nuts but it isn't necessary. Heat the pesto with a cup or so of half-and-half and let it thicken. Fry and drain little meatballs made with prepared Italian sausage. Mix the meatballs with the sauce and serve over al dente spaghetti.
Garden Fresh
Particularly in summer, fresh, firm ripe tomatoes add a fresh look and taste to your spaghetti and meatballs. Saute some chopped garlic in olive oil, add thinly sliced spring onions, chopped tomato and torn fresh basil leaves. Continue to saute briefly and pour the whole thing over a bowl of warm pasta and meatballs. Deglaze the pan with a bit of white wine; pour the resulting sauce in the bowl and toss the whole thing gently. Serve with warm bread and a dish of olive oil and balsamic vinegar for dipping.
Bake firm, fresh cherry tomatoes alongside similar-size meatballs. Toss cooked spaghetti with olive oil, fresh oregano, sauteed chopped garlic and diced spring onions. Add the tomatoes and meatballs, sprinkle with Parmesan cheese and mix it up. Provide a jar of crunchy grissini breadsticks.
Rich and Creamy
Treat your meatballs to a rich coating with the multipurpose cream sauce known as bechamel. It sounds fancy, but it's basically just white gravy made with butter, flour and milk and seasoned to your own taste. Make the sauce, drop in the warm meatballs and season with fresh Italian herbs, salt, pepper and a dash or 2 of freshly grated nutmeg. Ladle the mixture over spaghetti noodles. For a cheesy upgrade, whisk in some grated Parmesan.
Lightly seasoned chicken or turkey meatballs make a friendly companion to a traditional Alfredo sauce, whether served on the side or in the sauce over al dente pasta. Serve with a Caesar salad and toasty garlic bread.
Tips and Warnings
Use fresh soft breadcrumbs for moist meatballs.

If possible, grate your own fresh Parmesan for a truer Italian flavor.

Use the best-quality olive oil your budget will allow.

Freeze leftover pesto in a plastic-wrap-lined ice cube tray. When frozen, pop them into a freezer bag for later use.

Reserve a cup or so of your pasta cooking water to use as a thinner for pesto sauce. The starchy water smooths the sauce.

Many people are allergic to cilantro, so check with your guests before serving cilantro pesto. The same applies to pine nuts in basil pesto.
Writer Bio
Raechel Donahue is an author, journalist and former features editor of the Brentwood News. Her specialties include travel, food and film. She performs a weekend show on BossBossRadio.com, runs a travel website and has written, produced and directed several PBS documentaries. A native Californian, Donahue currently lives in France.
Photo Credits
Lilechka75/iStock/Getty Images