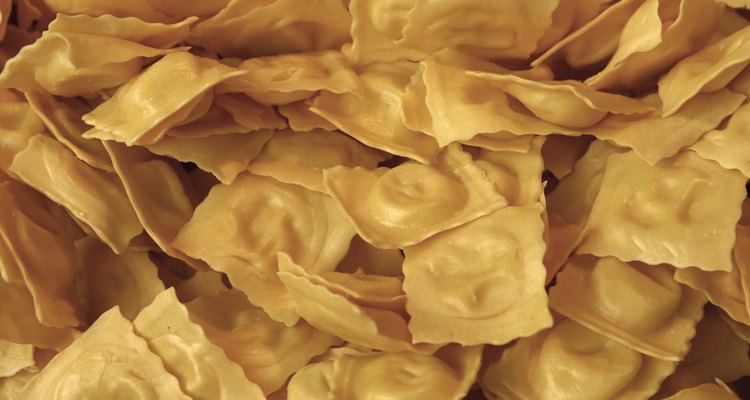 Hemera Technologies/AbleStock.com/Getty Images
Nearly every cuisine has its stuffed noodle dish and Italians are no exception with ravioli. However three or four ravioli sitting on a plate look a little forlorn. Keep them company and delight friends and family by napping the ravioli with sauces, adorning them with herbs or accompanying them with vegetables for contrasts in texture and color.
Fabulously Fried
Deep-fried ravioli take a bit of work but the crunchy pasta surrounding the tender fillings is a surprising take on the usually soft noodles. Skip the rolling and ravioli stuffing stage by buying prepared, packaged ravioli. Dip each ravioli in beaten egg or buttermilk, then breadcrumbs, and deep-fry. The classic accompaniment is marinara, but you could also serve with spinach or onion dip, herb-spiked yogurt sauce or a cheese sauce.
Herb Sauces
Herb sauces bathing the tender pasta take the dish up a notch. When you think of ravioli, you might think of pesto as the herb sauce. To make your own pesto, combine basil, olive oil, pine nuts and Parmesan cheese with a mortar and pestle or in a blender until the sauce is smooth. However, pesto is only one of many options. Combine different herbs, oils and nuts to come up with your own sauce. For example, a mixture of parsley, walnuts, walnut oil and cheddar has a rich flavor that complements squash stuffed ravioli. Another option is a spicy concoction of cilantro, almonds and chili oil with a dash of cinnamon to go with pork sausage-filled ravioli.
A Variety of Vegetables
Vegetables add color to the rather bland-looking ravioli. Dark green roasted broccoli has a rich assertive flavor that melds with browned butter and the ravioli. Another option is sauteed cherry tomatoes, which make their own sauce when the tomatoes burst from the heat. Try a combination of different colored cherry tomatoes such as yellow, orange and red. Spinach and other greens are a natural with ravioli. Chop the greens and toss with the hot ravioli and a light sauce of lemon butter. Expect them to wilt slightly.
Terrific Toppings Bar
Rather than guess what your guests want to eat with their pasta, set up a toppings bar and let them choose. Serve three different kinds of ravioli -- meat, cheese and vegetable-stuffed. Toss lightly in olive oil so the ravioli don't stick together. Offer a variety of grated cheeses, flavored oils, fresh herbs, nuts, olives, anchovies and raw and cooked vegetables. Offer a white sauce, a seafood sauce and a tomato-based sauce. Cooked sausage slices, ground seasoned beef and shredded chicken round out the meal.
References
Martha Stewart's Menus for Entertaining; Martha Stewart
Writer Bio
Katie Jensen's first book was published in 2000. Since then she has written additional books as well as screenplays, website content and e-books. Rosehill holds a Master of Business Administration from Arizona State University. Her articles specialize in business and personal finance. Her passion includes cooking, eating and writing about food.
Photo Credits
Hemera Technologies/AbleStock.com/Getty Images