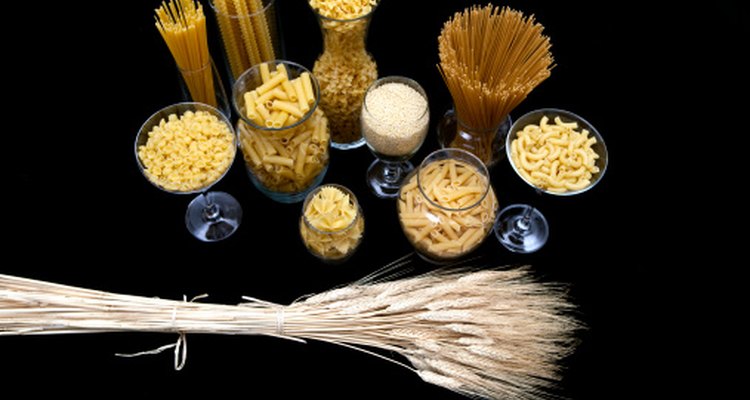 Jan Tyler/Photodisc/Getty Images
Whole grains have more fiber, vitamins and minerals than more refined grains do. In the case of wheat pasta, the calorie count is also less than that of white pasta or egg noodles.
Calorie Content
A cup of cooked wheat spaghetti or elbow macaroni is about 175 calories. In comparison, a cup of white elbow macaroni or egg spinach noodles has about 221 calories each.
Fattening Toppings
Avoid topping pasta with butter or mozzarella cheese, which each add 85 to 100 calories per tablespoon. A homemade cheese sauce can add up to 475 calories per serving, according to the United States Department of Agriculture's Nutrient Database.
Low-Cal Serving Suggestions
Top whole wheat spaghetti with low-sugar tomato sauce or diced tomatoes tossed in a small amount of heart-healthy olive oil. MayoClinic.com's whole wheat spaghetti tossed with marinara sauce and grilled vegetables contains about 270 calories per serving and contributes 4g dietary fiber.
Nutrition Facts
Whole wheat pasta contains less than a gram of fat and no cholesterol per one-cup serving. Its 37g carbohydrate content reflects a fiber count of almost 4g. The serving also contains 7.5g protein, 21mg calcium and 62mg potassium.
References
Writer Bio
Ellen Douglas has written on food, gardening, education and the arts since 1992. Douglas has worked as a staff reporter for the Lakeville Journal newspaper group. Previously, she served as a communication specialist in the nonprofit field. She received her Bachelor of Arts from the University of Connecticut.
Photo Credits
Jan Tyler/Photodisc/Getty Images