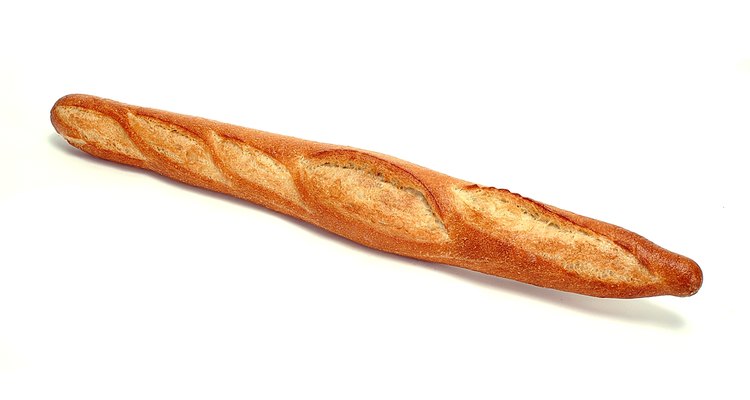 Jupiterimages/Photos.com/Getty Images
A baguette is a long, thin, crusty loaf of bread that has come to symbolize French cuisine. There are many ways to serve up a toasted baguette -- in the bottom of a soup bowl, as a sandwich or panini, as bruschetta, or even chopped or crumbled as croutons or breadcrumbs. Toasting a baguette is very easy and it makes an excellent base for a world of tasty toppings.
Cut the baguette into 1/4-inch slices and place them on a cookie or baking sheet in a single layer.
Brush the baguette slices with butter, margarine or olive oil.
Bake the baguette slices in a 400-degree Fahrenheit oven 8 to 10 minutes or until golden brown. Turn the bread so that it toasts on both sides.
Top the toasted baguette with goodies like: goat cheese and smoked salmon; pecan butter, Brie and applies; or just a swipe of olive oil topped with a dash of salt and pepper.
References
Writer Bio
Mary Strain's first byline appeared in "Scholastic Scope Magazine" in 1978. She has written continually since then and has been a professional editor since 1994. Her work has appeared in "Seventeen Magazine," "The War Cry," "Young Salvationist," "Fireside Companion," "Leaders for Today" and "Creation Illustrated." She earned her Bachelor of Arts in English from Oglethorpe University in Atlanta.
Photo Credits
Jupiterimages/Photos.com/Getty Images