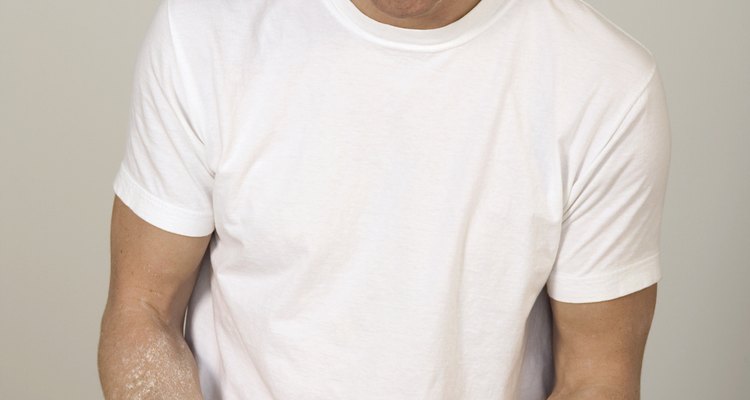 Jupiterimages/liquidlibrary/Getty Images
Pizza dough is a lot more versatile than simply serving as the base for sauce and cheese. Since the dough has a somewhat neutral flavor, it can be transformed from savory into sweet. Whether you're having a pizza night at your house and want to use up leftover dough, or you just want to create a twist on a classic, pizza dough has lots of uses. And, you don't even have to always bake it.
Do a Dessert Pizza
Dessert pizzas offer a twist on traditional pizza by transforming the pizza from savory to sweet. You can create them using almost any ingredient. Make a strawberry pizza by baking your crust and smearing a chocolate-hazelnut spread and topping it with freshly sliced strawberries and whipped cream. You can make a s'mores-inspired pizza by topping off a baked crust with toasted graham crackers, mini marshmallows and chocolate pieces. Bake the entire pizza until the marshmallows are melted and gooey.
Go Focaccia
Leftover dough can substitute for focaccia bread in a simple, elegant dessert. Spread out your dough on an oiled baking sheet and lightly brush the top with olive oil, then bake it to get a crispy focaccia-like crust. Add sliced fruit -- sliced fresh peaches, apples or figs -- and top it with a chocolate sauce or honey. You can also place grapes, pine nuts and honey atop your crust, then bake it in the oven for a light, sweet dessert. Omit the fruit and top the focaccia with a soft dessert-like cheese -- such as mascarpone or brie -- and finish it with a drizzle of honey for a quick dessert.
Get Frying
Pizza dough fries well and doesn't absorb grease like other dough. Fry up balls of leftover pizza dough, sprinkle them with powdered sugar and serve with a side of chocolate or caramel sauce for dipping. Or fill a pocket of pizza dough with apples, cinnamon and brown sugar, then fry it for a cinnamon-apple empanada. For a creamier dessert, fill the pizza dough with a mixture of cream cheese and diced fruits -- try strawberries, apples or raspberries; fry it and sprinkle with powdered sugar for a dessert pocket.
Change Up a Classic
Cinnamon twists, which can serve as a dessert or snack, can be made using pizza dough. Stretch long strips of pizza dough and coat them with melted butter and a cinnamon-sugar mixture; then twist them up and bake them in the oven until crisp. Serve with a dipping sauce or eat them plain. Cinnamon rolls are typically made with a yeast dough, but skip making the dough from scratch and use leftover pizza dough instead. Use pizza dough in place of your cinnamon roll dough, fill and roll them according to your recipe. Top with a light glaze or chocolate sauce and serve for dessert instead of breakfast.
References
Resources
Writer Bio
Shailynn Krow began writing professionally in 2002. She has contributed articles on food, weddings, travel, human resources/management and parenting to numerous online and offline publications. Krow holds a Bachelor of Science in psychology from the University of California, Los Angeles and an Associate of Science in pastry arts from the International Culinary Institute of America.
Photo Credits
Jupiterimages/liquidlibrary/Getty Images