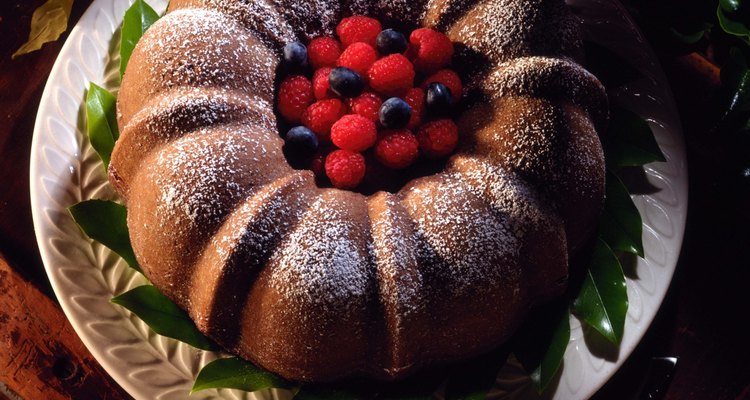 Jupiterimages/Stockbyte/Getty Images
Blueberry muffin mix already has the dry ingredients measured out for you, so most desserts you make with it are easier than your average recipe. This means you can spend a few minutes arranging ingredients and decorating the dessert without worrying about wasting too much time. From cakes to shakes, there are many sweets you can make with the mix.
Cakes
Cake is one of the easiest desserts to make with blueberry muffin mix because you simply make the mix, pour into it the pan and bake. Top the cake with powdered sugar or blueberry jam for a finishing touch. Fill a two-layer blueberry cake with blueberry jam and cover with cream cheese frosting for a creamy treat. Add an extra egg and dried cherries to the muffin mix batter for an extra-fluffy berry cake that pairs well with a light whipped cream topping.
Tasty Shakes
Crumble baked blueberry muffins with ice cream to create a sweet blueberry shake like no other. Blend crumbled muffins, vanilla ice cream and milk for a shake with a traditional taste. Mix crumbled muffins, chocolate ice cream and chocolate milk to make an indulgent dessert. Combine crumbled muffins, butter pecan ice cream, caramel syrup, chopped pecans and milk for a rich and nutty sweet.
Cupcakes
Cupcakes are simple to make with blueberry muffin mix since they're just blueberry muffins with frosting. If you prefer a sweeter dessert, simply mix a few pinches of sugar into the batter before baking. Cover a blueberry and walnut muffin with maple frosting to create a fall flavored treat. Smear blueberry cream cheese frosting over blueberry muffins for a creamy berry sweet. Top blueberry and coconut muffins with coconut cream frosting to give the dessert a tropical touch.
Cobblers
Muffin mix topping adds a mellow background flavor to any cobbler recipe. Spoon blueberry muffin mix over blueberry pie filling for a classic sweet. Pour the prepared mix over peach pie filling for a tasty alternative to laborious peach pie. Top a mixture of cherry pie filling, raspberry pie filling and dried cranberries with muffin mix for a dessert bursting with berry flavors.
Bars
Add a little less liquid than called for in the blueberry muffin mix to make dense bars you can top with a variety of ingredients. Sprinkle the muffin mix with dark and white chocolate chips for extra-sweet dessert bars. Pour blueberry muffins mix into a pan and top with a sour cream, sugar and cream cheese mixture to make cheesecake bars. Bake blueberry muffin bars, let cool and top with lemon custard for a tangy treat.
Cookies
Muffin cookies are fluffier than your average cookie. In fact, the cookies are more like muffin tops without the stump than they are like traditional cookies. Stir rolled oats into the muffin mix for a hearty cookie with a hint of berry flavor. Mix raspberries and lemon zest into the mix to create muffin-top cookies with tang. Add dried strawberries and white chocolate chips to the blueberry muffin mix for light berries and cream flavor.
Writer Bio
A writer since 2000, Aya Pauli has covered a variety of topics including food, fashion, beauty, health, parenting, education, decor and crafts. Her award-winning recipes have been published in food magazines such as "Taste of Home," and she is also the author of a salad cookbook. Pauli's craft projects appear in major manufacturer websites, including Dow Styrofoam. She also holds a CDA in early childhood education and works as a preschool teacher in Wyoming.
Photo Credits
Jupiterimages/Stockbyte/Getty Images