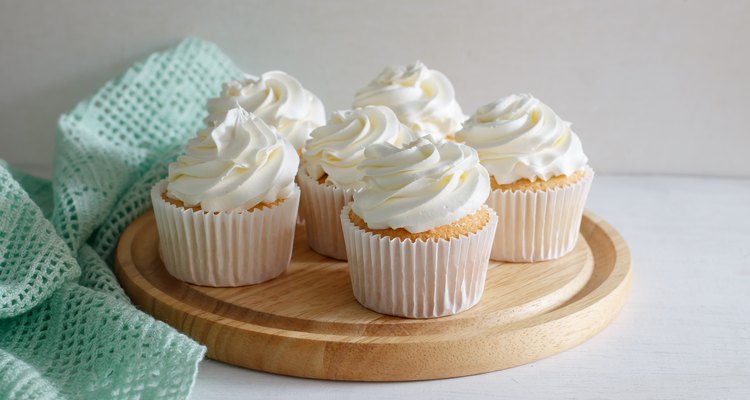 Tomophafan/iStock/GettyImages
A Classic Sweet Treat You Can Whip Up Quickly
These easy vanilla cupcakes are perfect for filling, frosting or dusting with a little powdered sugar. They're not really any more time intensive than a box mix, and give you so much more flavor when you bite into the delicate texture. Stir together the batter as dinner cooks, and bake them while you and the family eat. Vanilla cupcakes take any flavor frosting. Save time by using a can, or by blending together a quick buttercream with softened unsalted butter and powdered sugar. You can also top them with whipped cream and berries just before serving. They're perfect for the next day's bake sale or classroom party, or as a dessert treat on a weeknight. Who says a working mom doesn't have time to bake?
Total Time: 30 minutes| Prep Time: 10 minutes | Serves: 12
1 1/2 cups all-purpose flour

1 teaspoon baking powder

1/4 teaspoon salt

3/4 cup granulated sugar

6 tablespoons unsalted butter, softened

1 large egg

1 teaspoon vanilla extract

3/4 cup buttermilk

Heat the oven to 350F. Grease or line a 12-cup muffin tin.

In a medium bowl, sift together the flour, baking powder and salt.

In a large bowl, use an electric mixer to beat together the sugar and softened butter for 2 to 3 minutes. Add the egg and the vanilla extract, and mix until thoroughly blended.

Mix in about one-third of the flour mixture, and blend thoroughly on low speed. Add roughly one-third of the buttermilk and blend the batter. Continue to alternate until all the ingredients are mixed in and the batter is smooth. Avoid over-beating; once the flour is thoroughly incorporated, your batter is ready.

Divide the batter evenly among the 12 muffin cups. Bake in the oven 18 to 20 minutes, until the tops are lightly golden. Remove from the oven, and allow to cool in the pan for 5 minutes.

Transfer the cupcakes to a wire rack. Cool completely before frosting or filling.

Writer Bio
Andrea Cespedes is a professionally trained chef who has focused studies in nutrition. With more than 20 years of experience in the fitness industry, she coaches cycling and running and teaches Pilates and yoga. She is an American Council on Exercise-certified personal trainer, RYT-200 and has degrees from Princeton and Columbia University.