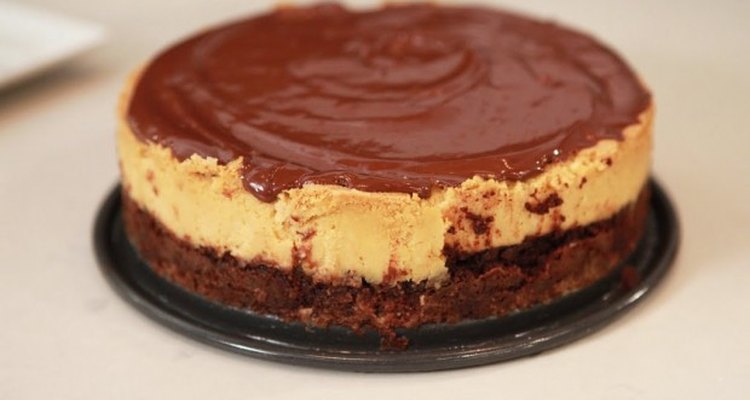 This cheesecake from pastry chef Heather Bertinetti redefines "decadent." Brownie Bottom Butterscotch Cheesecake Recipe Makes 8 to 10 servings1 box brownie mix, such as Duncan Hines or Betty Crocker 3 (8-ounce) packages cream cheese, softened 4 eggs 1 (14-ounce) can sweetened condensed Milk 10 ounces butterscotch chips, melted 2 teaspoons vanilla extract 8 ounces semisweet chocolate chips 2 tablespoons shortening
Grease a 9-inch springform pan with nonstick cooking spray.
Prepare the brownie mix according to package directions, baking it in the springform pan. Allow the brownie to cool completely. Wrap the bottom and up the sides of the pan with a single layer of aluminum foil. Set aside. Adjust the oven temperature to 325ºF.
In the bowl of a stand mixer fitted with a paddle attachment, mix the cream cheese on medium speed until smooth and creamy, 2 to 3 minutes. Add the eggs, one at a time, and mix completely to incorporate (stop the mixer and scrape down the bottom and sides of the bowl after fully incorporating each egg). Add the sweetened condensed milk, melted butterscotch chips, and vanilla to the bowl and continue mixing to fully incorporate all of the ingredients.
Pour the cheesecake batter over the brownie crust and carefully transfer the whole cake to a roasting pan. Fill the pan halfway with lukewarm water and carefully place the whole setup in the oven. Bake until the cheesecake is pale golden brown on top and set, about 45-55 minutes. Let the cheesecake cool completely in the pan, at least 2 hours.
When the cheesecake has cooled, in a medium mixing bowl combine the chocolate and shortening. Melt this mixture together over a double boiler or in the microwave. Reserve.
To release the cheesecake from the pan, dip a small sharp knife in hot water and run it along the side of the cheesecake around the inside edge of the pan. Remove the aluminum foil from the bottom of the pan. Unlock the springform sides of the pan and carefully remove the edge of the pan from the cake.
Evenly spread the glaze over the top of the cheesecake and serve.
http://www.ehow.com/video_12157970_brownie-bottom-butterscotch-cheesecake.html
In association with Rachael Ray at www.rachaelray.com