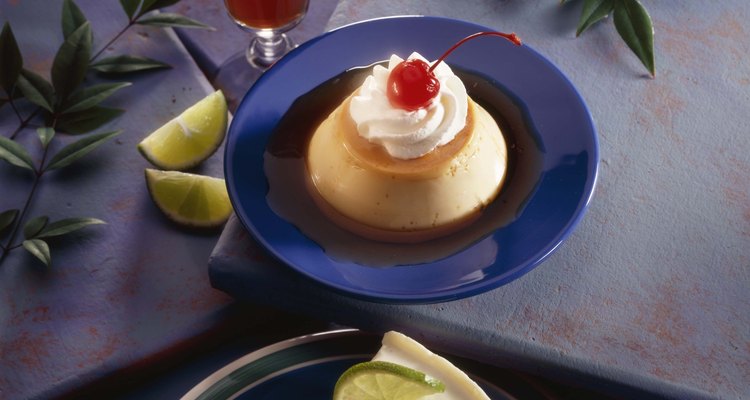 Jupiterimages/Comstock/Getty Images
A coconut cream pie is a rich dessert, common in French cuisine, consisting of a thick, custard-like filling. Many coconut cream pies recipes require large amounts of sugar and heavy cream to make up the filling. However, you can make a sugar-free coconut cream pie without sacrificing flavor or consistency. Including time to chill the filling -- approximately 1 hour and 10 minutes -- is necessary to make sugar-free coconut cream pie. This recipe yields 5 to 6 large servings, or 10 to 12 small servings.
Bake the frozen pie crust according to the instructions on the package. While it bakes, place a skillet over medium heat and add 1 tbsp. of shredded coconut. Stir the coconut until it is golden brown and toasted. Remove the skillet from the heat.
Blend the milk and the coconut extract in a medium mixing bowl and add the vanilla pudding mix. Stir until the pudding mix is blended into the liquids.
Add 1 cup of the whipped topping to the bowl and stir until it is combined into the mixture. Stir in the untoasted shredded coconut and pour the bowl's contents into the baked pie crust.
Place the pie into the refrigerator for one hour. Remove it and top the pie with the remaining whipped topping. Sprinkle the toasted shredded coconut over the top and serve the sugar-free coconut cream pie while cold.
References
"Sweet Gratitude"; Matthew Rogers and Tiziana Alipo Tamborra; 2008
"The "I Can't Believe This Has No Sugar" Cookbook"; Deborah E. Buhr; 1997
Tips
Refrigerate any uneaten portion of the coconut cream pie for up to three days.
Writer Bio
Serena Styles is a Colorado-based writer who specializes in health, fitness and food. Speaking three languages and working on a fourth, Styles is pursuing a Bachelor's in Linguistics and preparing to travel the world. When Styles isn't writing, she can be found hiking, cooking or working as a certified nutritionist.
Photo Credits
Jupiterimages/Comstock/Getty Images