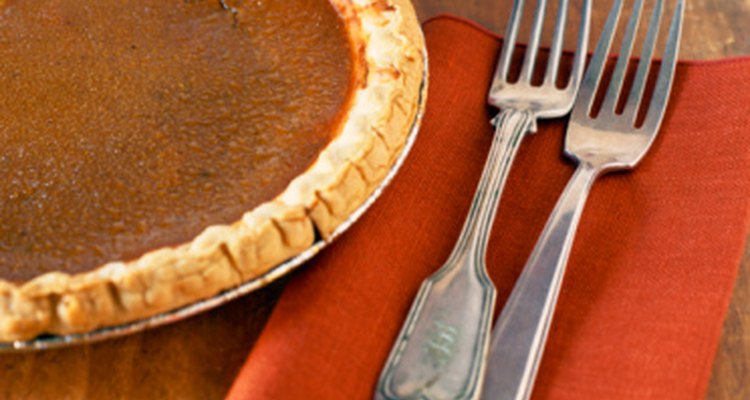 Creatas Images/Creatas/Getty Images
No matter how many slices of pumpkin pie you devoured during the holidays, 'tis the season to stick your fork into leftover slices for months to come. Pumpkin pie is a perishable item, requiring a cool storage temperature because the eggs, evaporated milk and pumpkin filling can spoil. Package and preserve surplus pumpkin pies or slices to indulge upon at a later date for a cold or hot, spiced dessert.
Cool the pie at room temperature for 1 hour after baking, before taking steps to store it. Do not add whip cream to the pie because the texture of the cream turns liquid upon refrigeration and freezing.
Wrap the pumpkin pie tightly in plastic wrap or aluminum foil to lock in moisture. Place the pumpkin pie inside an airtight container or plastic zipper-lock bag.
Refrigerate the pumpkin pie for two to three days. Freeze unbaked or baked pumpkin pies for up to two months; however, pumpkin filling and crust of baked pies gains a mushy consistency upon thawing and may require reheating.
References
Resources
Writer Bio
Taylor DiVico is a professional songwriter, content writer, fiction novelist and poet with more than 15 years of experience. DiVico holds a B.A. in philosophy from the University of Rhode Island and an M.S. from Syracuse University.
Photo Credits
Creatas Images/Creatas/Getty Images