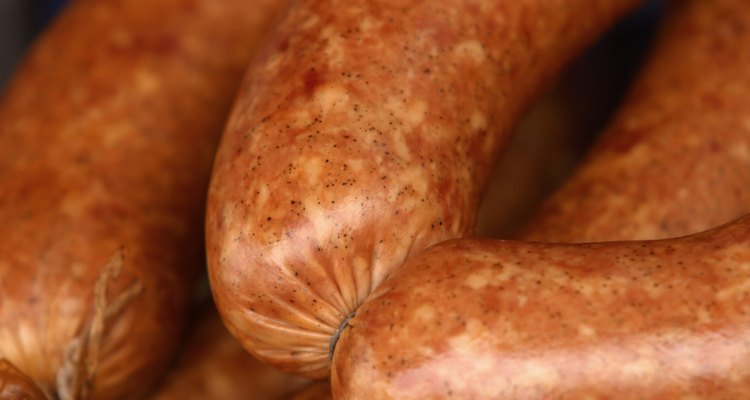 Hemera Technologies/AbleStock.com/Getty Images
Eating a food like kielbasa is a way to enjoy complex flavors without having to complete a complex recipe. The pork and beef sausage traditionally features a savory combination of marjoram and garlic. Some sausages have a slight mustard taste and others are simply mild and salty. Enjoying these flavors can be as simple as placing a piece of kielbasa into the oven. Once cooked, you can enjoy them sliced, on a bun or added to a variety of casseroles, soups, salads and other dishes.
Step 1
Preheat your oven to 325 degrees Fahrenheit.
Step 2
Cut your kielbasa into one to three large pieces so it can fit in your baking dish. Do not slice yet if your recipe calls for sliced kielbasa. Leave the kielbasa in one piece if it fits in the pan without pressing up against the sides.
Step 3
Place the baking dish into the oven on the center rack.
Step 4
Bake for roughly 15 to 20 minutes or until the insides of the kielbasa pieces are steaming hot and measure 160 F on a meat thermometer.
Step 5
Remove and allow the kielbasa to rest for about 3 minutes, so it can cool.
Step 6
Slice the kielbasa and eat or add to your favorite kielbasa recipe.
References
Tips
To add extra flavor, consider adding sliced onions, potatoes or other vegetables to the baking dish. Adjust your cooking time so that the sausage and the sides are cooked through.
Warnings
Never eat kielbasa without cooking it first. Even if the packaging says "precooked," the meat could still contain bacteria that cause illness. Make sure to throw the packaging away and clean up the drippings. Wash your hands after handling the kielbasa and the packaging.
Writer Bio
A Jill-of-all-trades, Lillian Downey is a certified Responsible Sexuality Educator, certified clinical phlebotomist and a certified non-profit administrator. She's also written extensively on gardening and cooking. She also authors blogs on nail art blog and women's self esteem.
Photo Credits
Hemera Technologies/AbleStock.com/Getty Images