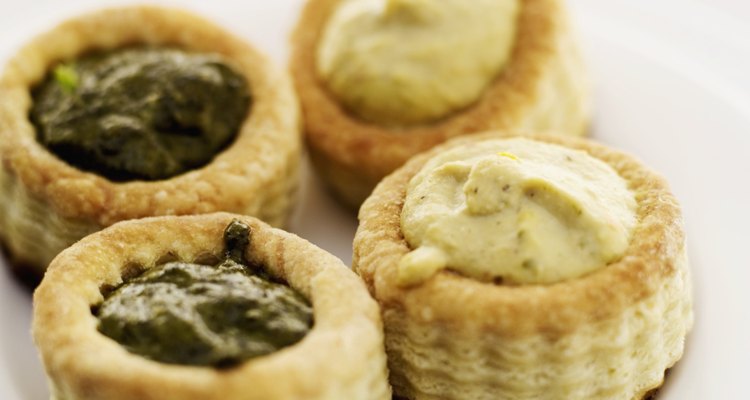 Stockbyte/Stockbyte/Getty Images
In the mythology of professional kitchens, puff pastry is said to have been invented by an apprentice who forgot the butter, and tried to roll it into the already finished dough. Although its origin is in doubt, puff pastry can be used for sweet treats or crisp, tasty appetizers with equal success. It bakes beautifully whether thawed or frozen. That means you can prepare appetizers in advance, and have them ready to go when guests arrive.
Baked Ahead
Puff pastry is easiest to work with when it's chilled and firm, just barely pliable enough to shape. Work with one piece at a time, and keep the rest in your refrigerator until you need it. Bake small filled shells, bouchees or vol au vents, in advance. Keep them in an airtight container, then fill them at the last minute. You can also make puff pastry sticks or twists in advance.
Prepared Unbaked
Mini quiches, filled mushroom pastries and other hot appetizers can also be made ahead. Prepare and chill the fillings ahead of time, except for quiche fillings which can be frozen uncooked. Line cupcake pans or individual tartlet pans with the pastry, or cut sheets of puff pastry into squares, circles or triangles. Spoon or pour the filling into the pastry shells, and fold them to enclose the filling. Refrigerate the appetizers for an hour or two before baking, or arrange them on a baking sheet and freeze them. Transfer the frozen pastries to a freezer container, and bake them from frozen.
References
The Professional Pastry Chef; Bo Friberg
Professional Cooking; Wayne Gisslen
Writer Bio
Fred Decker is a trained chef and prolific freelance writer. In previous careers, he sold insurance and mutual funds, and was a longtime retailer. He was educated at Memorial University of Newfoundland and the Northern Alberta Institute of Technology. His articles have appeared on numerous home and garden sites including GoneOutdoors, TheNest and eHow.
Photo Credits
Stockbyte/Stockbyte/Getty Images