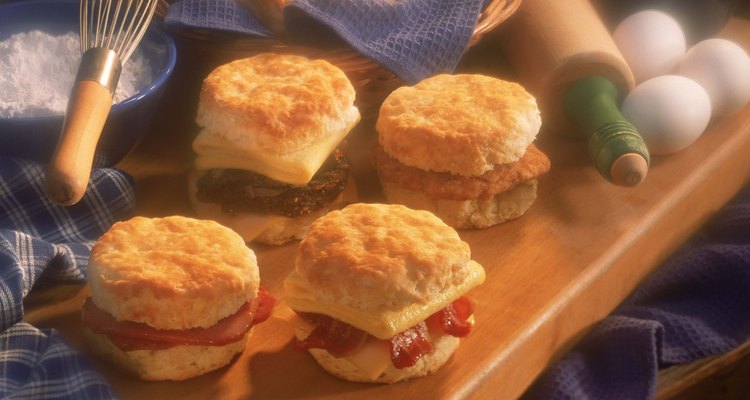 Jupiterimages/Comstock/Getty Images
If you have a busy schedule, take advantage of slack time and make a batch of biscuits to serve later. Although biscuits keep better if you bake them first, you can also freeze unbaked biscuits and bake them fresh and hot when you're ready. Keep in mind that freezing unbaked biscuits usually results in smaller biscuits with a less tender texture, as frozen biscuits don't rise as well. Use frozen, unbaked biscuits within one month.
Freezing
Any standard biscuit recipe is suitable for freezing unbaked biscuits. If you already have a familiar, tried and true biscuit recipe, stick with what works best. Roll and cut the biscuits as usual, then place them on a baking sheet. Cover the biscuits with plastic wrap and slide the sheet into the freezer. When the biscuits are completely frozen, transfer them to a resealable plastic bag or an airtight container.
Baking
One benefit of freezing unbaked biscuits is that you can remove only the biscuits you need for a meal and leave the rest in the freezer for another day. Arrange the frozen biscuits on a baking sheet and let them thaw at room temperature for about an hour. Brush the biscuits with melted butter if you want golden, crispy tops, then bake the biscuits according to the recipe. Alternatively, bake frozen biscuits straight from frozen. They will take longer to cook, and you should monitor them carefully so they don't burn.
Freezing Baked Biscuits
If you have time to bake the biscuits first, the biscuits will retain texture and quality for longer -- up to three months. Make and bake the biscuits according to the recipe, then let them cool completely. Package the cooled biscuits securely in an airtight container or resealable plastic bag, then freeze. At serving time, place the biscuits on a baking sheet and bake them, unthawed, for 15 to 20 minutes.
Safe Freezer Storage
Use an appliance thermometer to test your freezer temperature frequently, as maintaining quality of biscuits and other frozen foods requires temperatures of zero degrees Fahrenheit or lower. At temperatures between zero and 32 F, frozen biscuits are safe to eat but flavor and nutritional quality is lost. The ideal freezer temperature for safe, long-term food storage is minus 10 to minus 20 F, advises University of Nebraska-Lincoln Extension.
References
Writer Bio
M.H. Dyer began her writing career as a staff writer at a community newspaper and is now a full-time commercial writer. She writes about a variety of topics, with a focus on sustainable, pesticide- and herbicide-free gardening. She is an Oregon State University Master Gardener and Master Naturalist and holds a Master of Fine Arts in creative nonfiction writing.
Photo Credits
Jupiterimages/Comstock/Getty Images