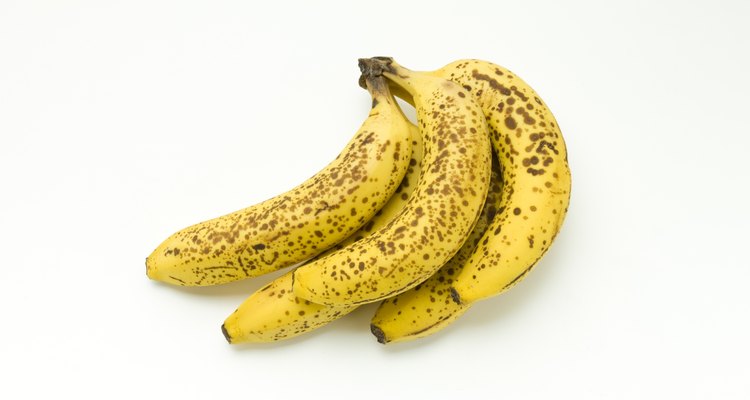 amanaimagesRF/amana images/Getty Images
Banana bread requires bananas that smash to a creamy, smooth consistency, making overripe frozen bananas a preferred produce choice. As bananas near their expiration, you can simply pop them in the freezer with or without packaging to preserve them for months. The peels turn dark black and the fruit turns deep brown. The fruit lends sweetness and moisture -- signature characteristics of homemade banana bread.
Ingredients
2 cups frozen bananas
2 cups granulated sugar
3 eggs
1 cup vegetable oil
1 teaspoon vanilla extract
3 cups all-purpose flour
1 teaspoon baking soda
1/4 teaspoon baking powder
1/2 teaspoon salt
1 teaspoon vanilla extract
2/3 cup chopped walnuts, optional
Directions
Thaw the bananas in a bowl. Mash with a fork or potato masher until smooth -- no lumps should remain.
Stir the sugar, eggs, vegetable oil and vanilla extract into the bananas until well combined.
Combine the flour, baking soda, baking powder and salt in a separate bowl. Fold the dry mixture into the wet mixture. Stir just until combined, but do not overmix.
Fold the chopped walnuts into the batter, if using.
Divide the batter equally between two well-greased loaf pans.
Bake the banana bread in a 350-degree Fahrenheit oven for 1 hour. The bread is done when a toothpick inserted at the center comes out clean. Bake for another 10 to 15 minutes if the toothpick doesn't come out clean.
Remove from the oven and let cool for at least 30 minutes before removing from the pans.
Tips
It takes 3 to 4 bananas to equal 2 cups of mashed bananas. To make baking banana bread a breeze, you can mash the bananas before freezing in 2-cup portions. Simply thaw the mashed bananas and stir them into the other ingredients.
If you don't plan to serve the banana bread immediately after cooling, remove the loaves from the pan and wrap tightly with plastic cling wrap. Store at room temperature or in the refrigerator for up to 1 week. Store in the freezer for 2 to 4 months. Thaw frozen banana bread in its packaging at room temperature or in the refrigerator before serving.
Substitutions
Substitute 1 cup of applesauce for the vegetable oil to reduce the fat content in the banana bread. This produces an ultra-moist bread with only a hint of flavor from the applesauce.
References
Writer Bio
A former cake decorator and competitive horticulturist, Amelia Allonsy is most at home in the kitchen or with her hands in the dirt. She received her Bachelor's degree from West Virginia University. Her work has been published in the San Francisco Chronicle and on other websites.
Photo Credits
amanaimagesRF/amana images/Getty Images