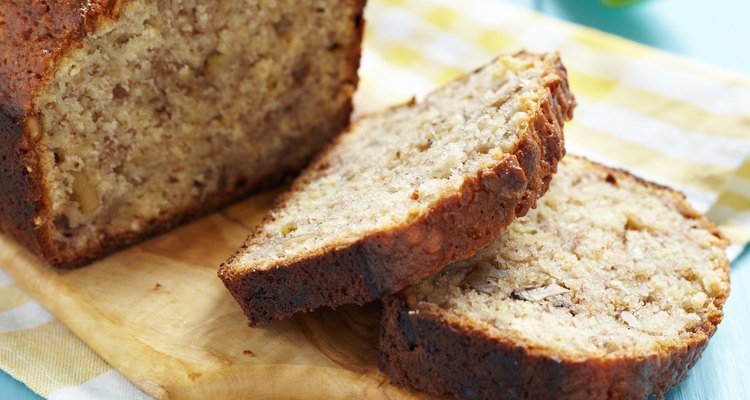 Azurita/iStock/GettyImages
A Tasty Treat That's Ready to Bake in Less Than 5 Minutes!
This ultra-quick banana bread recipe makes use of basic pantry staples, so prep is virtually nonexistent. While most banana bread recipes require one bowl for wet ingredients and one bowl for dry, this batter is mixed entirely in the blender, so clean-up time is just as fast as prep. Because this loaf is gluten-free, it won't rise as much as traditional banana bread, so expect a slightly flatter loaf that may dip in the middle.
Total Time: 1 hour | Prep Time: 5 minutes | Serves: 8 to 12 (makes 1 loaf)
1 cup oats
3 medium overripe bananas

1/4 cup smooth peanut butter

2 large eggs
1/4 cup brown sugar

1 teaspoon vanilla extract

1 teaspoon baking powder

1/2 teaspoon baking soda

1/4 teaspoon salt

1/2 cup chocolate chips (optional)

Heat the oven to 350F and prepare a standard 9-by-5-inch loaf pan by coating it with cooking spray or greasing it with butter or a neutral-flavored oil.

Blend just the oats on high until they have reduced to a fine powder. Stop the blender and add all of the remaining ingredients, except the chocolate chips.

Blend the batter on high until it is smooth, 1 to 2 minutes.

Pour the batter into the loaf pan and top the loaf with the chocolate chips, if using, or fold them into the batter.

Bake the loaf at 350F for 45 to 55 minutes, or until it is golden brown and a toothpick stuck in the middle comes out with only a few moist crumbs attached. Let the loaf cool before slicing and serving or storing the bread wrapped tightly in plastic wrap.

References
Writer Bio
Carly Schuna has been freelance writing and editing for more than a decade. In the lifestyle sector, her specialty areas are wellness, food/drink, and entertaining. With hundreds of recipes and nutrition-focused articles in her portfolio, Carly loves helping readers put a healthy spin on classics in the kitchen without sacrificing taste.