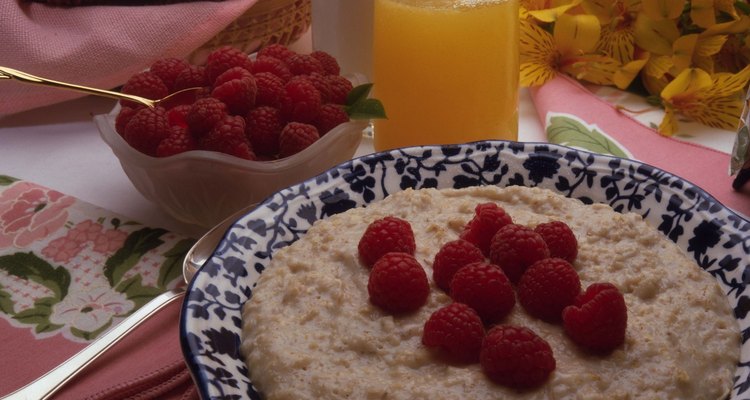 Jupiterimages/Stockbyte/Getty Images
Steel-cut oats, sometimes called Irish oats, make for a heartier breakfast than regular rolled oats due to their minimal processing. Steel-cut oats are whole-grain oats that have been cut into pieces, with much of the outer bran layer intact. In contrast, rolled oats have the bran layer removed and then are rolled into flat pieces. Due to the remaining bran, steel-cut oats have a nuttier taste and chewier texture than rolled oats, but they also take a lot longer to cook on the stove -- anywhere from 15 to 30 minutes. Fortunately, you can enjoy a fresh bowl of steel-cut oats any day of the week if you cook them in a slow cooker overnight.
Step 1
Grease the slow cooker with butter or coat with a light layer of cooking spray.
Step 2
Combine steel-cut oats and water in the slow cooker. For every cup of dry steel-cut oats you add, you'll need 4 cups of water. A cup of dry steel-cut oats will make four servings of cooked oatmeal.
Step 3
Add a pinch of salt to the mixture, and stir in additional ingredients such as cinnamon, brown sugar, raisins or dried cranberries, if desired.
Step 4
Cover and cook on low for approximately eight hours, or overnight. The cooked steel-cut oats will be tender and creamy. Top each serving with chopped apples, sliced peaches, nuts or granola, if desired.
References
Tips
Replace a small amount of the water with half-and-half or whole milk for a richer bowl of oatmeal.
Make several servings of steel-cut oats at once, divide the oatmeal into single-serving portions and microwave when ready to serve.
Warnings
Slow cookers work best when they are between half and three-quarters full. If there aren't enough steel-cut oats and water in the slow cooker, the oatmeal may burn. If the slow cooker is too full, the oatmeal may not cook evenly.
Writer Bio
Anika Torrance joined the "Mobile Press-Register" in 1997 as an advertising assistant and quickly moved into the newsroom, where she was a staff writer and copy editor for almost 10 years. She holds a Bachelor's degree with a double major in journalism and history from the University of Southern Mississippi, and completed a Master's degree in English at the University of Alabama in Huntsville.
Photo Credits
Jupiterimages/Stockbyte/Getty Images