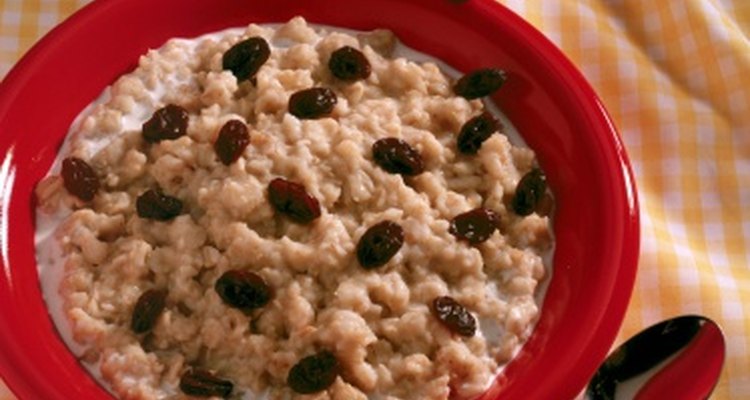 Jupiterimages/Comstock/Getty Images
Heart-healthy oats are tasty in cookies, but they offer greater health benefits as oatmeal for your breakfast. Rolled oats cook quickly, but be careful of pre-packaged varieties if you're watching your sugar intake. Steel-cut oats are cut into small pieces rather than rolled and have a crunchier texture.
Calories
A serving of rolled oats contains 150 calories and 3 g of fat. A serving of steel-cut oats also holds 150 calories and has 2.5 g of fat. One serving is 1/4 cup of dried oats, before cooking with water. Adding ½ cup of skim milk to your oatmeal adds 40 calories.
Nutrition
The nutritional profiles of both rolled oats and steel-cut oats are very similar. Both contain 4 g of fiber and 5 g of protein. You can get 15 percent of your recommended daily calcium intake by adding ½ cup of skim milk.
Health
Oats are a good source of soluble fiber, which helps to lower cholesterol levels in the blood. A diet high in fiber can help prevent heart disease and diabetes.
References
Writer Bio
Since 1997, Maria Christensen has written about business, history, food, culture and travel for diverse publications. She ran her own business writing employee handbooks and business process manuals for small businesses, authored a guidebook to Seattle, and works as an accountant for a software company. Christensen studied communications at the University of Washington and history at Armstrong Atlantic State University.
Photo Credits
Jupiterimages/Comstock/Getty Images