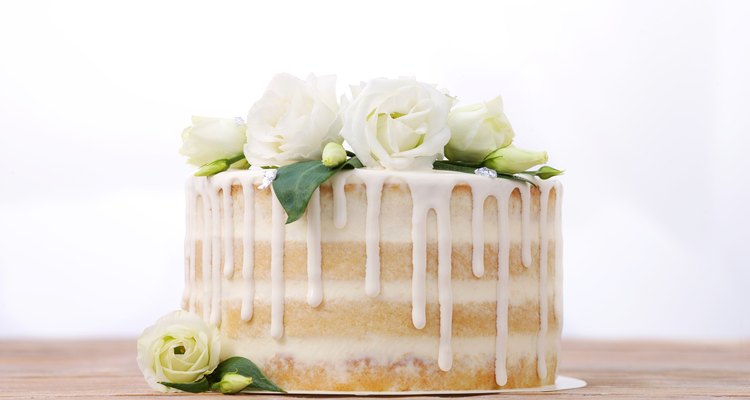 KIV_ph/iStock/GettyImages
A Beautiful Cake That's Simple to Dress Up or Down
White cake's classic reputation is as a wedding dessert, but the beauty of a great white cake recipe is its versatility. The snow-white batter is a result of using egg whites without yolks, and the final product is an amazing companion to nearly any type of filling or frosting. To keep things simple, this recipe makes just enough for one standard 8-inch cake, but you can double or triple it for a tall, more elaborate layer cake.
Total Time: 35 minutes | Prep Time: 10 minutes | Serves: 8 to 10 (makes 1 8-inch cake)
1/2 cup milk, at room temperature

3 large egg whites, at room temperature

1/2 teaspoon almond extract

1/2 teaspoon vanilla extract

1 1/4 cups cake flour
3/4 cup granulated sugar

2 teaspoons baking powder

1/2 teaspoon salt

6 tablespoons butter, at room temperature

Heat the oven to 350F. Prepare a standard 8-inch round cake pan by coating it with cooking spray.

In a medium bowl, whisk the milk, egg whites, almond extract and vanilla extract until combined.

In a large bowl, use an electric mixer on low speed to combine the flour, sugar, baking powder and salt. Cut in the butter 1 tablespoon at a time until the mixture is moist and crumbly, about 1 to 2 minutes.

Pour the wet ingredients into the flour mixture, and beat at medium speed for 2 minutes.

Pour the batter into the cake pan.

Bake the cake for about 25 minutes, until the top is just turning light golden brown and a toothpick inserted into the center of the cake comes out clean.

Let the cake cool completely before slicing or serving.
References
Writer Bio
Carly Schuna has been freelance writing and editing for more than a decade. In the lifestyle sector, her specialty areas are wellness, food/drink, and entertaining. With hundreds of recipes and nutrition-focused articles in her portfolio, Carly loves helping readers put a healthy spin on classics in the kitchen without sacrificing taste.