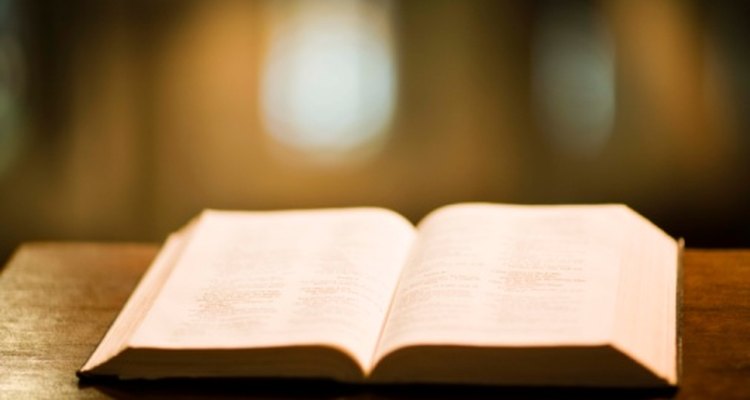 Jupiterimages/Polka Dot/Getty Images
Make a Bible-shaped cake for a special Easter celebration or for a family event any time throughout the year. Decorate the cake with your favorite scriptures for an inspirational dessert, and add fondant or gum paste embellishments. The cake is made from a shaped pan and uses only basic fondant decorating techniques, so it is simple enough for even a novice cake decorator to prepare in just a few hours.
Prepare a store-bought cake mix in a large mixing bowl according to the package directions.
Coat an open-book-shaped cake pan with a vegetable oil spray. Sprinkle flour over the spray.
Pour the prepared cake mix into the pan and bake according to package directions.
Remove the cake from the oven and let it cool for 20 minutes in the pan. Take the cake out of the pan and let it cool to room temperature.
Roll out a sheet of off-white fondant to a thickness of between 1/8 and 1/12 inch. Pick up the fondant carefully and drape it over the cake. Use a cake smoother to smooth the fondant over the top of the cake, into the center crease and down over the sides of the cake. Cut off any excess fondant at the bottom edges.
Roll out a package of black or dark brown fondant to a thickness of approximately 1/6 inch. Place the cake on top of the fondant and cut around the cake. Leave 1/4 inch of fondant beyond the cake. The dark fondant forms the Bible cover.
Roll out a small sheet of blue or red fondant to a thickness of 1/12 inch. Cut a long thin strip -- approximately 1/2 inch wide -- that is the length of the cake plus 4 inches. Drape the strip down the center of the cake to make a ribbon page marker.
Open a Bible to a page with your favorite scriptures. Use a black edible marker or pen to write some of those scriptures on the open pages of the cake.
References
Writer Bio
Rosenya Faith has been working with children since the age of 16 as a swimming instructor and dance instructor. For more than 14 years she has worked as a recreation and skill development leader, an early childhood educator and a teaching assistant, working in elementary schools and with special needs children between 4 and 11 years of age.
Photo Credits
Jupiterimages/Polka Dot/Getty Images