Wedding anniversaries are always special occasions for couples. Traditional customs dictate that each anniversary be celebrated with an anniversary cake, which is usually white and fancy, much like a wedding cake. There a variety of anniversary cake styles available. However, you do not have to pay for the extravagant services of an expensive bakery for your anniversary, as you do for your wedding. There are many cute cakes that you can make at home yourself for your anniversary.
Layered Cakes
You can create a simple one-layered cake by baking a round, square or rectangular cake and decorating it. For a more impressive cake, though, you can create a two-, three-, or even four- or five-tiered cake by simply baking two, three, four or five uniform cakes. Allow them to cool and stack them atop one another. For even more creativity, you can bake layers of descending sizes and stack them atop one another. With a bit of time and baking innovation, you can make the tall, layered cakes of professionals at home.
Cake Accessories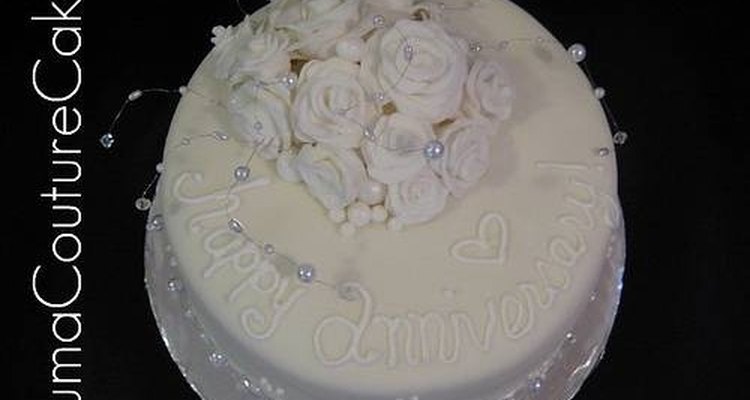 Decorate your cakes with anniversary cake toppers, such as figurines of couples, monograms, anniversary candles, photo toppers, plastic hearts and much more. Use romantic wedding colors for your frosting, such as classic white, baby blue, rosy pink, pastel green, light yellow and others. Also, employ the aid of different styles of cake decorating applicator tips to outline your cake in lacelike frills of frosting. Purchase hard sugar flowers and edible anniversary decorations to decorate your cake, such as edible white pearls. Compose a "Happy Anniversary" message out of gel icing or use plastic anniversary scripts. You can add chocolate-covered strawberries and nuts to your cake. There are hundreds of decorations to choose from, and decorations are, after all, what make a cake memorable.
Writer Bio
Kayla Lowe has been a freelance writer since 2008. She writes for various online publications and is also the author of the book "Maiden's Blush," a Christian-fiction romance novel. Lowe is pursuing a degree in elementary education.