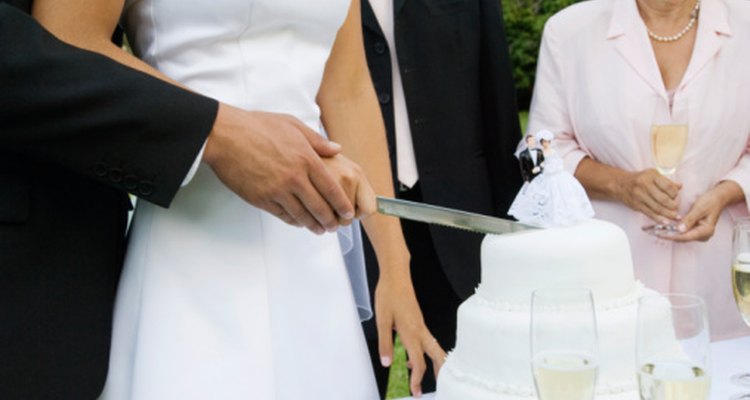 Jupiterimages/Pixland/Getty Images
When it comes to choosing a wedding cake, break away from the monotony of visiting bakery after bakery for their selections and have a little fun with virtual cake design. Designing a cake online can give you a delicious sneak preview of what you might serve your guests and give you instant designer gratification as you explore different styles and options.
Go to a website that offers options for designing prototype cakes (see Resources). Find a vendor in your area, if possible. You might also explore wedding magazines that specialize in this area (see Resources).
Select your serving size, which will determine the overall size and design options for your cake.
Select the cake style. Determine if you want a tiered, stacked or asymmetric design, and choose the shape, such as round, hexagon or square.
Select colors and flavors. You may select more than one icing or flavor depending on how you'd like to divide up your cake and the flavors you and your guests prefer.
References
Writer Bio
Randi McCreary has been writing professionally since 2005. Her work has been featured in "Black Praxis" Second Edition, the NoMoreSilentCries anthology, "Present Magazine," "Riseup Magazine," and "Essence." She is the author of "Sweet.Water.Horizion" and is a tenth year educator with a B.A. in English from the University of Missouri-Columbia and a master's in education from Avila University.
Photo Credits
Jupiterimages/Pixland/Getty Images