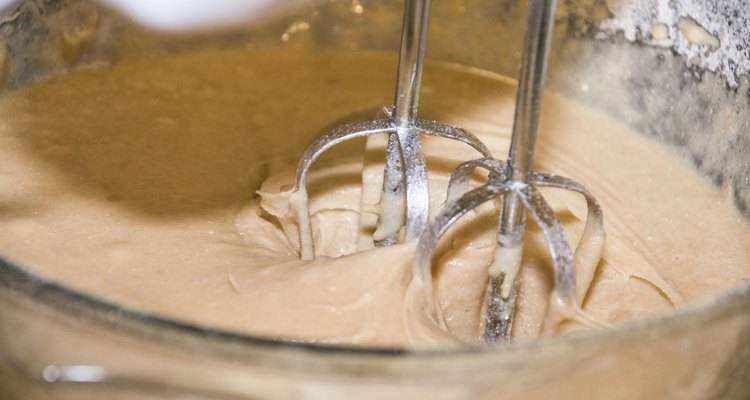 Dankingphotography/iStock/Getty Images
Boxed cake mixes have held an honored spot in American cuisine since they were introduced in the 1920s, but you can improve on them by adding almonds and almond flavorings, if you want. Add almond-flavored ingredients and the nuts themselves to the cake batter and to the frosting, and use almonds as decorations for the cake as well.
Liquid Almonds
A few tablespoons of almond liqueur or a dash of almond extract add a taste of almonds to yellow cake batter or frosting. For liqueurs, use either amaretto, made with apricot pits or almonds, or creme d'amande, a pink almond-flavored liqueur. If your cake calls for vegetable oil, substitute 1 tablespoon of the oil with almond oil, which you can buy at specialty food markets. For cakes that you want to glaze instead of frost, use almond extract or liqueur to deepen the almond flavor of both the cake and the glaze.
Tasty Paste
A blend of processed almonds, sugar and egg whites, almond paste gives cakes an almond-flavor boost when added in small quantities to the batter itself or in the frosting that you use between the layers of the cake and on the outside. Add 1/3 to 2/3 cup of almond paste in the batter of your yellow cake mix. Add 1 tablespoon at a time to the frosting, tasting as you go until you're happy with the level of flavor.
Chopped, Sliced and Toasted
Whether you add chopped or sliced almonds to the batter or the frosting of the cake, toast the nuts first to bring out their flavor. Whole almonds that you plan to chop take about seven minutes in a 350-degree Fahrenheit oven, while sliced almonds turn golden brown in five or six minutes. Use a few tablespoons, or up to 1/3 cup of almonds in the cake batter, sprinkle the nuts in the frosting and press handfuls of nuts on the frosted sides of the cake.
Matches Made in Heaven
When you add ingredients to cake's batter or frosting that complement or contrast with the almonds, you bring out more almond flavor. For example, adding a bit of orange or lemon zest to the frosting adds acidity that balances the savory almonds and draws your attention to both ingredients. Caramel is another flavor that pairs well with almonds, giving the yellow cake an additional warming and flavor-enhancing element if you use it in the frosting.
References
The Flavor Bible; Karen Page and Andrew Dornenburg
The Deluxe Food Lover's Companion; Sharon Tyler Herbst and Ron Herbst
Resources
Writer Bio
Susan Lundman began writing about her love of cooking, ingredient choices, menu planning and healthy eating after working for 20 years on children's issues at a nonprofit organization. She has written about food online professionally for ten years on numerous websites, and has provided family and friends with homemade recipes and stories about culinary adventures. Lundman received her M.A. from Stanford University.
Photo Credits
Dankingphotography/iStock/Getty Images