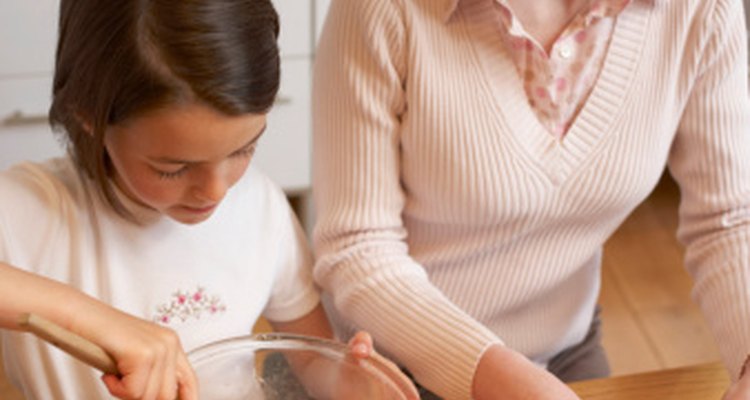 Rayes/Photodisc/Getty Images
Cakes are easy to make and lend finish to a gathering. Egg-shaped cakes for Easter can be cut from a standard sheet cake, or they can be baked in a special egg-shaped pan. Add bright frosting, candy flowers, jelly beans or even tiny chocolate bunnies for a festive touch. Your guests may find it almost too pretty to cut when it is time for dessert.
Prepare the cake mix according to package directions. Oil the sheet cake or egg-shaped pan using vegetable oil spray, shortening or butter. Pour the batter into the pan and bake according to directions on the cake mix box.
Turn the baked cake out on a cake plate, platter or cutting board. Let it cool. If you have used an egg-shaped pan, you can now ice the cake. If you used a sheet cake pan, cut a large piece of wax paper into an egg shape. Lay the shape on top of the cake, and cut away the excess on the edges. Place the leftover pieces in a container for later or throw away.
Ice the cake using the premade frosting. Use the aerosol cans with the decorator tips to make lines or drawings on the base icing. Press the jelly beans, flowers and little candy rabbits into the surface. Add sprinkles, if desired. Cover with a large bowl or cake saver until time to serve.
References
Writer Bio
Daisy Peasblossom Fernchild has been writing for over 50 years. Her first online publication was a poem entitled "Safe," published in 2008. Her articles specialize in animals, handcrafts and sustainable living. Fernchild has a Bachelor of Science in education and a Master of Arts in library science.
Photo Credits
Rayes/Photodisc/Getty Images