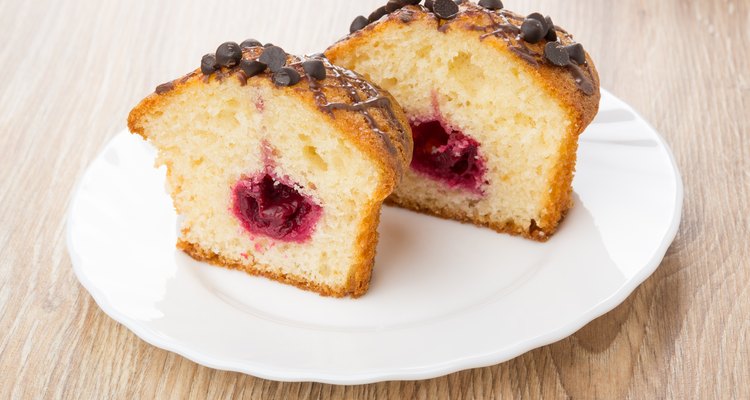 EugeneTomeev/iStock/GettyImages
The secret surprise nestled inside filled cupcakes can make the difference between an ordinary and special dessert, liven up a birthday party or perk up a bake sale or potluck supper. Baking whole fruit, such as strawberries, inside cupcakes keeps your secret safe until the first bite. You can make the cake batter from scratch using a favorite recipe or keep things simple by using a prepared cake mix. In either case, expect lots of smiles as your guests discover the treasure hidden inside.
Wash strawberries and drain well in a large colander. Use the small knife to slice the stems and leaves off, removing any small bit of the hull left in the top wide end of the berries. Set the berries aside.
Preheat your oven to 350 degrees Fahrenheit. Place a cupcake paper or foil liner in each cup of the cupcake pan. Prepare the cake from scratch or from a mix.
Use a small scoop or spoon to fill the paper liners with batter until it comes up about half-way to the top. Place one strawberry in the batter and cover with more batter. Repeat the process until all of the cups are filled.
Bake according to the recipe or package directions, remove from the oven and allow the cupcakes to cool slightly in the pan, then remove them to a wire rack. Allow the cupcakes to cool completely, then finish them with your favorite frosting.
References
Tips
A standard cupcake pan is roughly 2 1/2 inches wide by 1 1/2 inches deep and may not accommodate very large strawberries without displacing too much batter and spilling over. Use small to medium-sized whole berries or cut larger ones horizontally into halves.
If your strawberries are too heavy for the batter, turn them upside down with their wide ends facing the bottoms of the cups. The goal is to be able to add enough of the remaining batter to cover the strawberries so that they are completely hidden. As the cupcakes bake, the batter will rise to seal any gaps created by the berries.
If using a cake mix, use a flavor that complements that of the berries, such as strawberry, and finish with a fluffy white icing. Add banana extract to a yellow cake mix or homemade yellow cake batter to create strawberry-banana flavored cupcakes, and frost with whipped topping. Or bake the strawberries in dark chocolate cupcakes and ice with strawberry frosting.
Writer Bio
Rachel Lovejoy has been writing professionally since 1990 and currently writes a weekly column entitled "From the Urban Wilderness" for the Journal Tribune in Biddeford, Maine, as well as short novellas for Amazon Kindle. Lovejoy graduated from the University of Southern Maine in 1996 with a Bachelor of Arts in English.