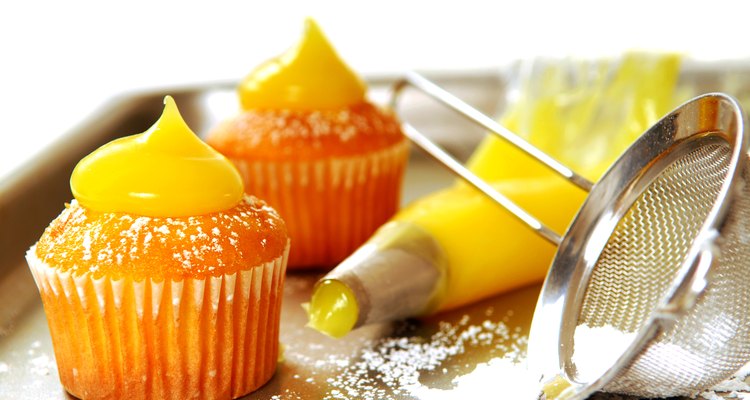 David Smith/iStock/Getty Images
Lemon cupcakes are a fresh and flavorful choice, particularly in the warmer months of the year. Lemon curd, a rich and creamy mixture of egg yolks, lemon and sugar, can provide that bright citrus flavor. You can layer lemon curd into the cupcake before baking or fill the cupcake after it is baked, depending upon the texture you prefer.
Lemon Curd
While you can purchase lemon curd in the jam section of a well-stocked grocery store, making your own offers a more flavorful and higher quality alternative. In a mixing bowl, cream together 6 tbsp. of softened, unsalted butter and 1 cup of sugar. Add six egg yolks, mixing well, then add 2/3 cup lemon juice. Cook the mixture over low heat until it is smooth, then increase to medium heat and cook until thickened. Do not boil. Remove from the heat and stir in 1 to 2 tsp. of lemon zest. Allow to cool completely before using the lemon curd. Store lemon curd, tightly covered, in the refrigerator for one week or in the freezer for two months.
Baking Lemon Curd into Cupcakes
If you don't want to fill cupcakes, you can bake lemon curd into the middle of each cupcake. Prepare your favorite lemon cake, white cake or yellow cake batter. Line each cup of your muffin tin with a paper liner, then scoop in enough batter to fill each cup approximately one-third of the way full. Add 1 to 2 tsp. of lemon curd, then top with enough cake batter to fill each cup two-thirds full. Bake as directed by your recipe or cake mix. You will retain the flavor but lose some of the distinctive texture of the lemon curd.
Filling Cupcakes with Curd
To make the lemon curd in your cupcakes stand out, fill baked cupcakes with this rich lemony filling. Use a small, sharp paring knife to remove a cone of cake from the center of each cupcake or opt for a cone-shaped pastry tip designed to fill cupcakes. Place 1 to 2 tsp. of lemon curd into each cupcake. If you've removed a cone of cake, replace the cake, then frost as desired.
Change It Up
While lemon curd is most often paired with a white, yellow or lemon cake, you might find that you enjoy the combination of lemon curd with a strawberry- or raspberry-flavored cake. You can also try lime curd, instead of lemon, with a margarita-flavored cupcake or a berry and lime combination for another fresh, summery flavor.
References
Writer Bio
With a master's degree in art history from the University of Missouri-Columbia, Michelle Powell-Smith has been writing professionally for more than a decade. An avid knitter and mother of four, she has written extensively on a wide variety of subjects, including education, test preparation, parenting, crafts and fashion.
Photo Credits
David Smith/iStock/Getty Images