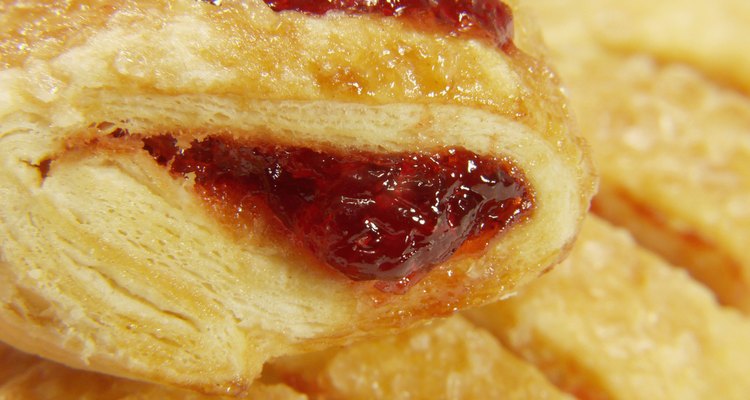 Medioimages/Photodisc/Photodisc/Getty Images
Puff pastry is a simple pastry dough that is folded over thin slabs of butter to create dozens of individual layers. The process is not difficult, but it is time-consuming. Frozen puff pastry is easy to work with and you can buy it in most supermarkets. It bakes into a light, airy and crispy crust that pairs well with fruit fillings. When you combine frozen puff pastry with frozen fruit, you have the basis for a variety of desserts.
Rustic Chic Tarts
Puff pastry is a quick and easy basis for a rustic fruit tart. Lay a sheet of thawed puff pastry on a baking sheet. Place the frozen fruit in a single layer over the pastry, then bake it at 400 degrees Fahrenheit for 20 to 25 minutes, or until the fruit is cooked through and the pastry is puffed up and golden brown. Sprinkle the finished tart with powdered sugar and slice into individual servings.
When in Doubt, Make Pie
Puff pastry is a classic substitute for pie crust. Line a pie pan with thawed puff pastry. Mix frozen apple slices with cinnamon and brown sugar, then empty the mixture into the puff pastry crust. Tuck three or four 1/4-inch pats of butter around the apples. Top the pie with another sheet of thawed puff pastry. Cut five vents in the top crust and bake at 400 F for 20 to 25 minutes, or until the pastry is golden brown and the filling is bubbly.
Dessert, Individualized
Frozen puff pastry shells simplify the process of making individual bite-sized desserts. Fill them with frozen berries mixed with sugar or honey, then bake. If you prefer apples or peaches, cut the fruit into bite-sized pieces before coating with sugar and filling the shells. Ready-made puff pastry shells are not large enough to accommodate a full apple or peach slice.
If you prefer to keep larger fruits whole, use a muffin tin and a sheet of puff pastry. Cut the puff pastry into squares, then tuck the squares into each indentation in the muffin tin. Fill with the fruit and bake until the fruit is soft and the pastry is puffed and golden brown.
Turnovers
Turnovers showcase the sweetness and juiciness of your favorite fruit, and when you use frozen fruit you can enjoy them year-round. To make puff pastry turnovers, thaw a sheet of puff pastry. Cut it into 6-inch squares. Lay the squares out on a baking sheet with 1 to 2 inches of space between them. Place 2 to 3 tablespoons of your favorite frozen fruit near one corner of the square. Top with a spoonful of sugar and any spices or flavorings you want. Brush a little beaten egg or milk onto the edges of the puff pastry, then fold the opposite corner over to make a triangle. Crimp the edges with a fork. Cut a vent in the top of each turnover, then bake at 400 F for 20 to 25 minutes or until the pastry is puffed and golden.
References
Writer Bio
Tricia Ballad is a writer, author and project geek. She has written several books including two novels, teaches classes on goal setting and project planning for writers, and loves to cook in her spare time. She is living proof that you can earn a living with a degree in creative writing.
Photo Credits
Medioimages/Photodisc/Photodisc/Getty Images