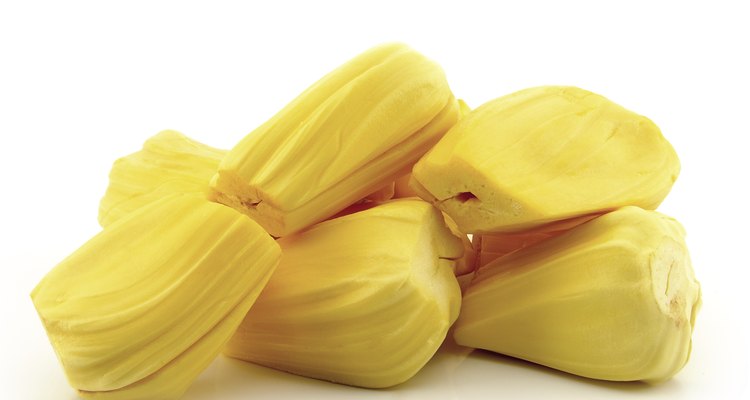 sommail/iStock/Getty Images
Start to finish: 25 minutes Servings: 2 Difficulty Level: Beginner
The taste of jackfruit compares to bananas and mild mangoes, resulting in a milkshake with a tropical twist. Fresh jackfruit gives the purest flavor to a milkshake, but canned jackfruit makes a suitable substitution for this fruit that is often difficult to find fresh. A bit of milk adds an extra creamy texture, and makes it easier to blend the fruit and stiff ice cream.
Ingredients
1 tablespoon granulated sugar
1 cup diced jackfruit
2 cups vanilla ice cream
1/2 cup milk
Directions
Sprinkle the granulated sugar over the diced jackfruit and let sit for about 10 minutes. The sugar draws out the juices and helps sweeten the jackfruit. This step is not necessary when using canned jackfruit, which is usually packed in its own syrup.
Pulse the macerated jackfruit in a blender until almost pureed. Include all juices and syrup that accumulated in the bottom of the bowl.
Add the vanilla ice cream to the blender. Allow the ice cream to soften a bit so it is easier to blend and less work for the blender.
Blend the ingredients for about 1 minute or until thoroughly mixed and smooth. Add more milk 1 tablespoon at a time if the mixture seizes up and is difficult to blend.
Tips
Use as much as 1 cup of milk if you prefer thin milkshakes, but add the milk in small increments to avoid making the shake too thin.
Substitute coconut milk, soymilk, almond milk or other milk substitutes in equal ratios to cow's milk.
For a healthier spin on a traditional milkshake, substitute equal parts frozen bananas for the vanilla ice cream.
Background
Native to India and grown throughout Southeast Asia, the enormous yellow-green fruits grow up to 100 pounds each, making them the largest tree fruit in the world. The bumpy skin encases hundreds of small flowers, which are the edible, fleshy portion of the fruit. A smooth oval seed, brown in color, lies in the center of each fruit.
References
Writer Bio
A former cake decorator and competitive horticulturist, Amelia Allonsy is most at home in the kitchen or with her hands in the dirt. She received her Bachelor's degree from West Virginia University. Her work has been published in the San Francisco Chronicle and on other websites.
Photo Credits
sommail/iStock/Getty Images