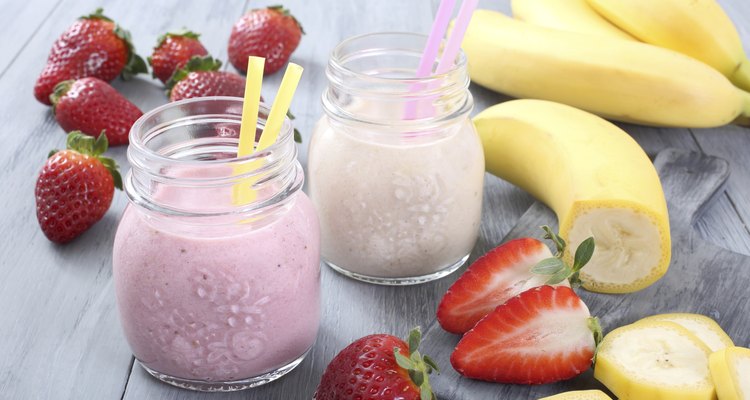 DENIO RIGACCI/iStock/Getty Images
Start to finish: 20 minutes Servings: 3 Difficulty level: Beginner
Make a quick, healthy yogurt smoothie for breakfast or a mid-day refresher using a blender. Start with 1 cup of yogurt and your choice of fruit. Add other ingredients to create the taste, level of sweetness and texture you want. Make your smoothie personal; choose low- or no-fat yogurt, sugar or alternative sweetener, one fruit or several, and additional ingredients that add more flavor, texture or health benefits.
Ingredients
1 cup plain yogurt, low- or non-fat
1 cup fresh strawberries or other fruit
1 medium banana
1 orange
¼-cup non-fat milk
1- to 3-single-serving packets of sugar substitute
Directions
Spoon the cup of yogurt into the blender.
Wash the strawberries, remove the stems and leaves, and cut each strawberry in half. Add the strawberries to the blender.
Peel the banana and cut it in thick slices. The banana adds more nutrients and helps to thicken the smoothie. Add the banana slices to the blender.
Wash the orange, cut it in half, and use a knife or spoon to remove the pulp. Add the orange to the blender.
Add ¼ cup milk to the blender.
Puree the fruit and yogurt mixture in the blender for about 30 seconds or until the smoothie is thick and smooth.
For a sweeter smoothie, add 1or more packets of sugar substitute or add the sweetener to single servings.
Pour the yogurt smoothie into glasses, garnish with fruit and serve immediately.
Single-Serving Smoothie
Use the regular-size blender or a personal hand-held mixer to make a single serving of the yogurt smoothie. Reduce the yogurt to 1/3 to 1/2 cup of yogurt. Add 1/3 cup of fruit, 3 tablespoons milk or juice, and blend. Add more milk or juice to thin the smoothie or a few banana slices to thicken it and add more flavor. If preferred, use a sweetener.
Variations and Tips
Use plain non-fat Greek yogurt for double the protein of regular nonfat yogurt.

Substitute the milk you prefer, such as soy or almond, or use ¼ cup of apple or orange juice instead.

Use different kinds of fruit -- peaches, berries, citrus, coconut and mangoes -- to make a different yogurt smoothie each day or to make personal smoothies for each family member.

Make it a green yogurt smoothie by adding fresh spinach with the fruit. Add other vegetables, such as carrots or uncooked yellow squash.
Smoothies will become thinner if refrigerated. Try pureeing the mixture again to thicken.

Use a drop of flavoring, such as vanilla extract, to enhance the flavor of the smoothie.

Use honey as a sweetener or start with vanilla yogurt.
References
Writer Bio
Gail Sessoms, a grant writer and nonprofit consultant, writes about nonprofit, small business and personal finance issues. She volunteers as a court-appointed child advocate, has a background in social services and writes about issues important to families. Sessoms holds a Bachelor of Arts degree in liberal studies.
Photo Credits
DENIO RIGACCI/iStock/Getty Images