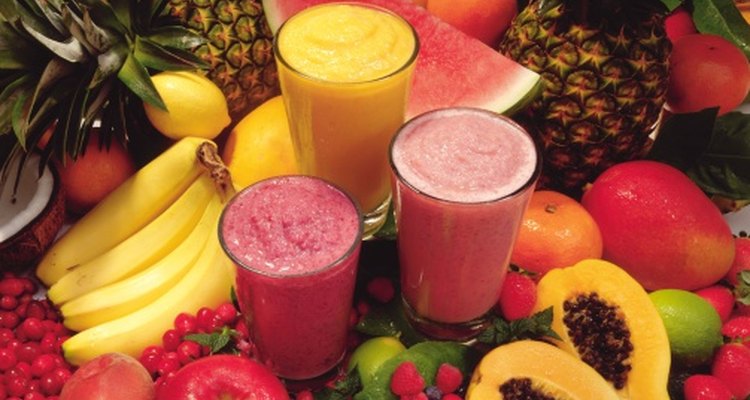 Jupiterimages/Comstock/Getty Images
Fruit smoothies are fun, tasty ways of getting more fruit into your diet. They are ideal for a healthy breakfast or nutritious snack. There are loads of fruit combinations from which to choose and, with a few ideas, you can experiment with flavors and make your own tasty, fruity smoothie.
Strawberry Yogurt Smoothie
Combining yogurt and strawberries makes for a satisfying, creamy smoothie. Pour 1/2 cup water and 3/4 cup plain yogurt into a blender. Peel and chop a banana and place into a blender along with 3/4 cup of frozen strawberries and four ice cubes. Blend on low for roughly 10 to 20 seconds, then increase to a medium-high speed until the mixture is smooth.
Lemon Kiwi Cooler Smoothie
The lemon kiwi cooler smoothie has a tart, citrus flavor. The kiwi provides a flavor mix for the lemon while grapes counter the lemon's sharpness. You can use either green or purple grapes depending on your preference. Put 2 cups of grapes, half a peeled and seeded lemon, half a peeled kiwi and 3 cups of ice into a blender and blend until the mixture reaches a smoothie consistency.
Mango Smoothie
Mango smoothies are colorful and nutritious. To make a mango smoothie, blend together one mango, cut into cubes and frozen, 1/2 cup yogurt and 1 cup of fruit juice, such as apple or orange juice, until smooth. Alternatively, you can substitute the frozen mango cubes for fresh mango and four or five ice cubes.
Orange Pineapple Smoothie
An orange pineapple smoothie makes for a tropical breakfast or exotic snack. Peel and quarter an orange and place into a blender with three slices of pineapple and 1/2 cup of fruit juice. Instead of the fruit juice, use milk if you prefer a creamier texture. Blend the mixture until smooth.
References
Writer Bio
Alice Ladkin is a writer and artist from Hampshire, United Kingdom. She has been writing professionally since 2008. Ladkin also runs her own pet portrait business.
Photo Credits
Jupiterimages/Comstock/Getty Images