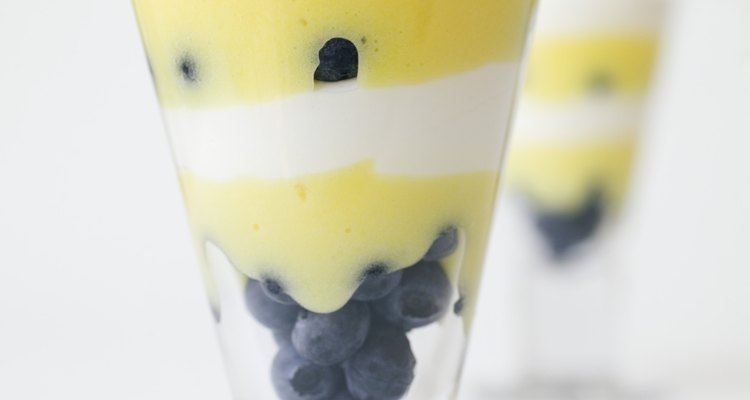 Creatas/Creatas/Getty Images
Cannoli filling is made with ricotta and mascarpone cheeses, vanilla extract and powdered sugar. It makes for a distinctive taste and texture that isn't found in any other type of dessert. If you are making your own cannolis and have some cream left over after all the shells have been filled, use it up in some creative and delicious ways.
Simple Snacks
Use your leftover cannoli cream for an instant snack. Pour some whole milk into the filling and stirring it with a spoon until blended. Cut up some fresh fruit and dip it in the cream. If you used a pastry filler to fill the cannoli shells, keep the extra cream in the filler and place a dollop onto your favorite store-bought cookies. You can also fill store-bought pastry shells or lady fingers topped with fruit to make cannoli cream tarts.
Crepes
Pick up some crepes at the supermarket -- or make your own -- and cut them into squares with a sharp knife. Spoon your leftover cannoli filling into each crepe square along the one edge. Add in some fresh berries or chocolate chips then roll the crepe until it forms a log shape. Heat the crepes for a few moments in the microwave and pour some chocolate syrup over the warm results. Serve hot for a blend of Italian and French dessert favorites.
Parfaits
Cannoli filling is soft enough to make a great parfait cream. It can be mixed with a variety of fruit and berries to create a basic dessert with minimal effort. Place your remaining cannoli cream into the blender with some bananas, strawberries or blueberries. Blend until smooth then scoop into small cups or bowls lined with sliced fruit. Sprinkle slivered almonds on top and serve cold.
Cakes
If you feel like baking, cannoli cream makes for a much more interesting and tasty layer cake filling than standard icing. Use a boxed yellow cake mix or your favorite recipe for the layers, and use your leftover cannoli cream to hold it all together. Simply place a layer of cake down on a plate and spread a layer of cannoli cream on top. Add a second layer of cake and repeat the process until there are three cake layers in place. Coat the top and sides of the cake with cannoli cream and refrigerate for an hour or two before serving. Lemon zest and chocolate chips can be added to the cream for a little color and flavor if you wish.
References
Writer Bio
Robert Morello has an extensive travel, marketing and business background. He graduated with a Bachelor of Arts from Columbia University in 2002 and has worked in travel as a guide, corporate senior marketing and product manager and travel consultant/expert. Morello is a professional writer and adjunct professor of travel and tourism.
Photo Credits
Creatas/Creatas/Getty Images