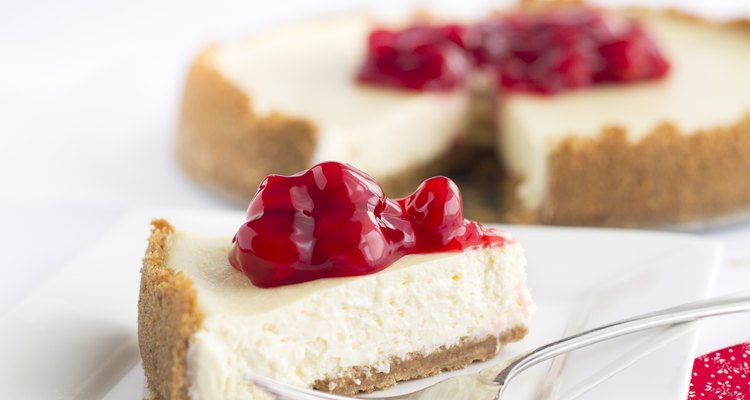 vaphotog/iStock/GettyImages
Try These Recipes for a Different Type of Cheesecake Every Time
Cheesecake is one of those decadent treats the entire family can enjoy. These no-bake versions are great to make even in the hottest weather, since no oven time is required. Each no-bake recipe here is different from the rest—so try them all to figure out your family's favorite version.
1. Easy No-Bake Cheesecake
The key to this cheesecake is whipping the cream cheese filling so it's fluffy. To make it, combine 8 3/4 ounces of graham cracker crumbs with 2 1/2 ounces melted butter, and then press the mixture evenly into a 9-inch pie pan. Refrigerate the crust as you work on the next part. Make the filling by mixing cream cheese, sugar, lemon juice, vanilla and salt in a stand mixer using a paddle attachment. Mix on low at first, then on high until the filling forms peaks. Scoop it into the crust, and refrigerate it for 6 hours. Add fresh fruit toppings.
2. No-Bake Cheesecake With Condensed Milk
This no-bake cheesecake uses sweetened condensed milk as one of the filling ingredients. Make the crust by pulsing graham crackers with brown sugar and melted unsalted butter in a food processor until the mixture is crumbly. Press the crust mix into a 9-inch springform pan, covering the bottom and 1 inch up the pan's sides. Chill the crust for 10 minutes. Make the filling by mixing cream cheese until smooth, then adding sweetened condensed milk, lemon juice and vanilla and mixing for 2 more minutes. Smooth the mixture into the crust. Refrigerate the cheesecake for at least 4 hours.
3. No-Bake Cheesecake With Sour Cream
Use a premade 9-inch graham cracker pie crust for this version. Sour cream is the secret ingredient in this no-bake cheesecake. Start the filling by mixing softened cream cheese with a hand mixer. Then add powdered sugar, lemon juice and sour cream, mixing during and after each ingredient to blend thoroughly. Whisk heavy cream in a separate bowl until peaks form, or substitute a whipped topping, no whisking necessary. Fold the cream or topping into the cream cheese mixture until well blended, and then pour into the graham cracker pie crust. Refrigerate for 4 hours.
4. Sandwich-Cookie Cheesecake
This recipe deviates from the standard graham-cracker crust and instead uses cream-filled chocolate sandwich cookies. More cookie bits add flavor and crunch to the cheesecake itself. Make the crust by mixing 15 crushed sandwich cookies and melted butter with a hand mixer. Press the mixture into a 13-by-9-inch cake pan, and refrigerate for at least 10 minutes. Make the cheesecake by blending cream cheese, sugar and vanilla with a hand mixer until well blended. Fold in whipped topping and 20 or so crushed sandwich cookies. Pour the mixture into the cake pan, and refrigerate it for at least 4 hours.
References
Writer Bio
Kathy Adams is an award-winning journalist. She is an avid DIYer that is equally at home repurposing random objects into new, useful creations as she is at supporting community gardening efforts and writing about healthy alternatives to household chemicals. She's written numerous DIY articles for paint and decor companies, as well as for Black + Decker, Hunker, Kroger, SFGate and others.