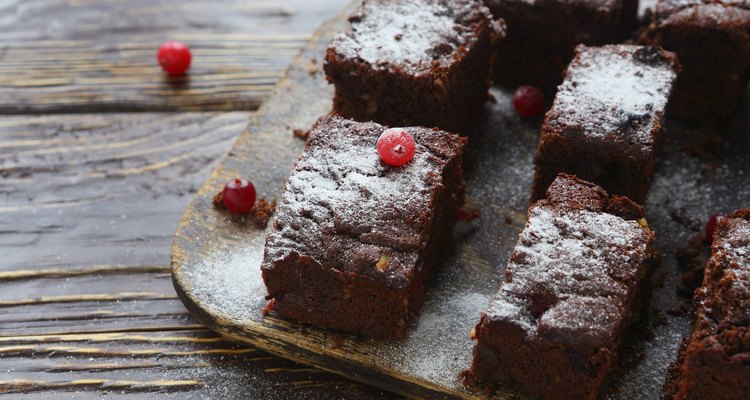 Olha_Afanasieva/iStock/Getty Images
No-bake brownies let you make a rich chocolaty treat without heating up your oven, and by extension your house. The graham crackers take the place of the flour in traditional baked brownie recipes. While you do not bake the brownies, you will need access to a stove or similar heat source to melt the chocolate that you will mix into the graham crackers. You will also need a refrigerator to help the brownies set.
Crush the graham crackers to make 2 ½ cups of "flour." Leave the graham crackers in the food processor and set it aside.
Combine the chocolate chips, evaporated milk, corn syrup, salt, butter and vanilla extract in the sauce pan. Turn the heat to low and stir the mixture until all the chocolate melts.
Remove the saucepan from the heat. Stir the graham crackers into the chocolate mixture.
Spray an 8 x 2 baking pan with nonstick cooking spray. Spread the chocolate mixture in the baking pan with a spatula.
Refrigerate the pan for four hours to let it set. Cut the brownies into squares.
References
"The Dessert Bible"; Christopher Kimball; 2000
"On Cooking: A Textbook of Culinary Fundamentals (5th Edition)"; Sarah R. Labensky, et al.; 2010
Writer Bio
Max Whitmore is a personal trainer with more than three years experience in individual and group fitness. Whitmore has a Bachelor of Arts in English literature from the University of Cincinnati, fitness certifications and dietetics training from Cincinnati State Technical and Community College. Whitmore has written for several online publishers.
Photo Credits
Olha_Afanasieva/iStock/Getty Images