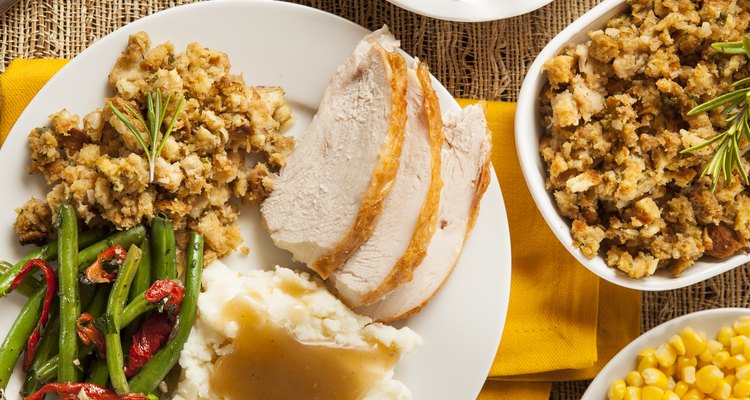 bhofack2/iStock/GettyImages
An Easy Made-From-Scratch Version of the Holiday Classic
Though store-bought stuffing is perfectly adequate for ordinary weeknight dinners, the homemade version gives a depth of flavor that's hard to replicate with a packaged product, making it an obvious choice for holidays and special occasions. Amp up a basic stuffing recipe and make it your own by adding a few tablespoons of cooked sausage, cooked oysters, fruit or extra vegetables. The better the bread you use, the more flavor and texture it contributes to the dish. Cut your bread and leave it on the counter to dry out a day ahead of time. To save cooking time and stovetop space when you're preparing a big family meal, do everything ahead except the final baking.
Total time: 1 hour | Prep time: 10 minutes | Serves: 6
2 tablespoons olive oil
1 onion, diced
4 stalks celery, diced
1/2 teaspoon ground sage or 6 fresh sage leaves, finely chopped
1 teaspoon kosher salt
4 cups bread, cut into 1-inch cubes and dried until crunchy
1 cup chicken or vegetable stock
Heat the oven to 375F.

In a large saucepan, heat the olive oil on medium heat. Add the onion, celery, sage, and kosher salt. Cook, stirring often, until the onion is soft and translucent, about 5 minutes.
Add the bread cubes and mix well. Drizzle in the stock, continuing to mix. The bread cubes should be soft but not mushy.
Spread the mixture on a 9-by-13-inch baking dish. Bake for about 20 minutes, until the bread cubes start to brown.
References
Writer Bio
Devra Gartenstein is a self-taught professional cook who has authored two cookbooks: "The Accidental Vegan", and "Local Bounty: Seasonal Vegan Recipes". She founded Patty Pan Cooperative, Seattle's oldest farmers market concession, and teaches regular cooking classes.