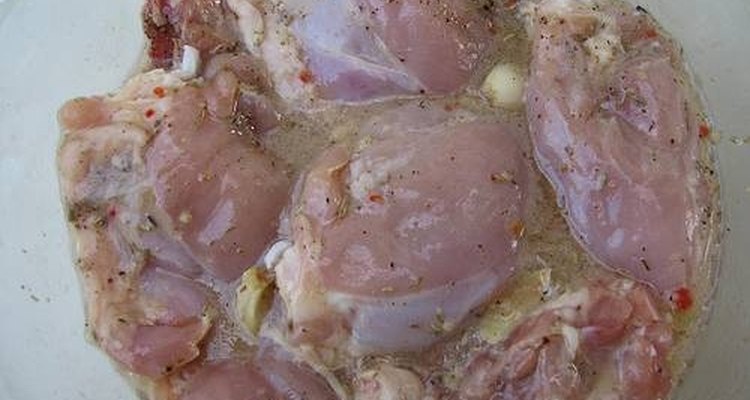 Photo by flippinyank, Creative Commons License
Italian dressing is a versatile mixture of oil, vinegar and spices. It can be used in cooking in many ways. It adds moisture and flavor to meats, potatoes, pasta, vegetables and sauces. Try these ideas to start, then try Italian dressing in any recipe that calls for olive oil and can use a bit of tangy flavor. Do not use fat free dressing for these recipes.
Use Italian dressing as a salad dressing for pasta salad. Toss pasta, chopped fresh vegetables, cubed ham and cheese with Italian dressing.
Use Italian dressing as a marinade for less tender cuts of beef, chicken or pork. Cover the meat in Italian dressing and marinate for up to 24 hours in the refrigerator. Grill, broil or pan fry as usual, basting with more dressing as needed.
Bake chicken in Italian dressing. Place chicken legs or thighs in a baking pan. Mix 1/2 cup Italian dressing with 1 to 2 tbsp. of Worcestershire sauce. Pour over the chicken and bake at 325 degrees F for 45 minutes or until done.
Toss quartered red potatoes with Italian dressing. Roast at 425 degrees F for 45 minutes or until done. Sprinkle with Parmesan cheese.
Toss vegetables in Italian dressing before grilling. The dressing will prevent sticking and add a zip of flavor.
Writer Bio
Diane Watkins has been writing since 1984, with experience in newspaper, newsletter and Web content. She writes two electronic newsletters and has a Bachelor of Science degree in chemistry from Clemson University. She has taken graduate courses in biochemistry and education.
Photo Credits
Photo by flippinyank, Creative Commons License