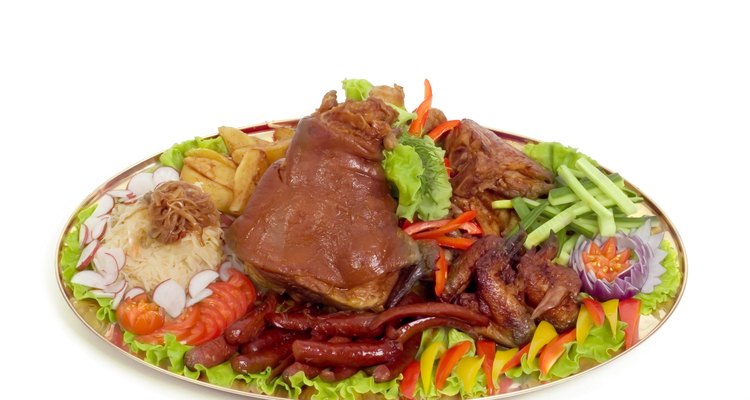 Olga Makarenko/Hemera/Getty Images
Preparing tender beef shanks ultimately requires the use of an oven, not a grill. While the image of a beef shank sizzling over an open flame is an appetizing one, an oven allows for complete control of the heat. If the shanks are exposed to too much heat, they will crisp and overcook. Browning the shanks in a skillet or oven-safe pan before roasting them locks in the flavor and provides an appealing texture to the meat. When mixed with a beef broth reduction, garlic and carrots, the shanks make for a meal worthy of any special occasion.
Preheat the oven to 350 degrees Fahrenheit.
Thoroughly rub the shanks with salt and pepper.
Pour flour into a mixing bowl or shallow pan and dredge the shanks. Be sure they are completely coated.
Heat 2 tbsp. of olive oil over medium heat in a sauté pan or skillet.
Carefully place the shanks in the pan or skillet and cook for approximately five minutes, until browned. Depending on the size of the pan or skillet, you might have to do this in two batches. Add more olive oil as needed.
Place the browned shanks into a large roasting pan and set aside.
Pour beef broth into the sauté pan or skillet and scrape up any cooked into particles until the broth begins to boil. Remove promptly.
Add garlic heads, lemon juice, thyme sprigs, bay leaf, and carrots to browned beef shanks in the roasting pan. Pour in the beef broth mixture and cover the roasting pan.
Place the roasting pan into the oven and cook for two or three hours, until the beef is fork-tender.
Remove from the oven and allow to sit at room temperature for at least 30 minutes prior to serving.
References
Resources
Tips
For optimal tenderness use beef shanks that are less than 2 inches thick.
If the shanks are not tender after three hours in the oven, allow them to cook -- covered -- for one more hour at 325 degrees Fahrenheit.
Warnings
Test the internal temperature of the meat. FoodSafety.gov recommends not consuming beef until it reaches at least 145 degrees F to prevent food-borne illness.
After handling uncooked meat, wash your hands thoroughly and any surface that comes in contact with the raw meat.
Writer Bio
Victor Fonseca started writing professionally in 1998. His specialties are history, popular culture, and information technology. He holds a Bachelor of Arts in political science from Southern Methodist University and spent a year studying at the American University of Rome.
Photo Credits
Olga Makarenko/Hemera/Getty Images