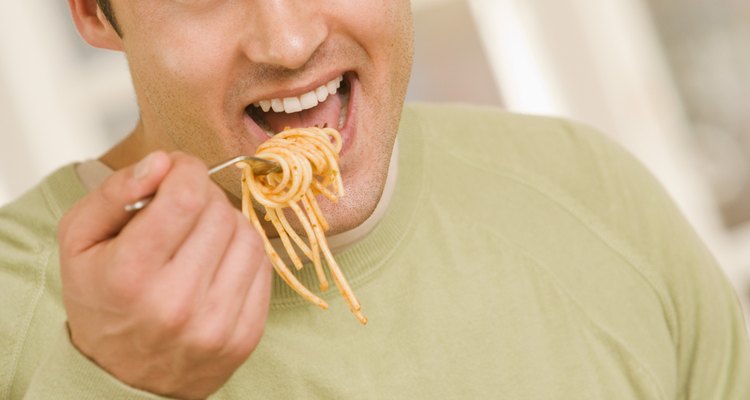 BananaStock/BananaStock/Getty Images
Balancing out the flavor of tomato sauce makes the difference between coating your spaghetti and coating your garbage disposal with it. Italian seasoning mixes contain dried herbs such as rosemary, oregano, basil, garlic and thyme, which add to the taste of a sauce. Adding too much Italian seasoning can create a pungent flavor overpowering that of the tomatoes. Luckily, there are fixes for the problem.
Step 1
Remove any excess Italian seasonings sitting on the surface of the sauce with a spoon or ladle.
Step 2
Add 1/2 jar of tomato sauce, tomato paste or crushed tomatoes to the saucepan to dilute the seasonings. Add 1/2 cup of water to even out the thickness of the sauce. Stir and taste the sauce.
Step 3
Core and cut a fresh green pepper vertically into slices. Add the green pepper to the sauce. Add a dash of crushed red pepper to create a spicy flavor to offset the Italian seasoning taste. Add grated cheese such as Parmesan, Romano or pecorino.
Step 4
Add cooked meat such as meatballs, veal, braciole or Italian sausage and the natural juices of the meat to the spaghetti sauce. Stir the mixture. Simmer the spaghetti sauce for 30 to 45 minutes on low heat to balance out the flavors.
References
Tips
Adding water thins out spaghetti sauce; adding tomato-based products thickens sauce. Add each in turn as you heat the sauce until it reaches the desired consistency.
Turn spaghetti sauce into a Puttanesca sauce: Saute garlic, crushed pepper, chopped olives, capers and anchovies in olive oil for 5 minutes. Add the ingredients to the spaghetti sauce to change the flavor profile.
Use the spaghetti sauce to make baked ziti or lasagna. Layering mozzarella and ricotta cheese helps tone down the Italian seasoning flavor.
Add vegetables such as mushrooms, peas and pureed carrots to change the flavor of the spaghetti sauce. Mushrooms add a savory taste, and peas and carrots add a sweet flavor.
Warnings
Refrain from adding fresh or dried herbs to the sauce to prevent them from combining with the Italian seasonings and overpowering the sauce.
Writer Bio
Taylor DiVico is a professional songwriter, content writer, fiction novelist and poet with more than 15 years of experience. DiVico holds a B.A. in philosophy from the University of Rhode Island and an M.S. from Syracuse University.
Photo Credits
BananaStock/BananaStock/Getty Images